MARITIME
RADIO
STATIONS

OF THE
WORLD
latest updates 30 April 1998

Sweden
- History
- Air Comms
- Gothenburg Radio
- Stockholm Radio
- Stockholm Radio website
Aeronautical Communications
The Air/Ground services are aimed to the commercial airline market and provide HF equipped aircraft with means to keep in contact with their ground based company offices or the public telephone network, by either AFTN/SITA messages or phone-patches. Services of this type have been provided in Sweden since 1967, at the beginning from the HF station Enkoping Radio, but since 1980 from Stockholm Radio.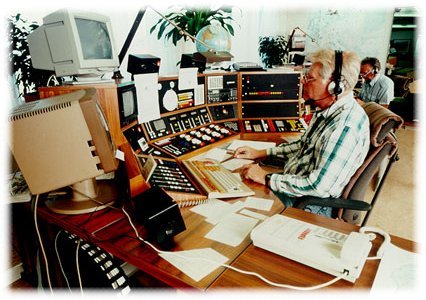 In the Air/Ground radio function, no distinctions are made between the calling and traffic channels. 6 primary or calling channels are loudspeaker monitored in the system, at up to 4 operating consoles.
Primary frequencies are:
3494 kHz (22 - 05 UTC)
5541 kHz (H24)
8930 kHz (H24)
11345 kHz (H24)
13342 kHz (H24)
17916 kHz (H24)
23210 kHz (05 - 22 UTC)
The network uses all remotely controlled receivers and transmitters. The transmitters are situated in two sites in western Sweden, Karlsborg and Grimeton, which were originally built in the 1920's for LF point-to-point traffic. A large number of HF transmitters were installed there in the mid-1960's, to cater for an anticipated increase of HF point-to-point traffic that never materialized. Instead, the sites and equipment were primarily used for mobile HF services.
The Air/Ground HF voice services' future is very much linked to the rate of exchanging old aircraft for new.It has been found in the past that the acquistion of new aircraft by an airline leads to the sale of the old to a more penny-pinching airline, that usually don't want to make the investment in SATCOM and feels that HF has a good enough price/performance ratio for his company communications. New aircraft on the other hand, usually are HF datalink, ACARS and SATCOM equipped from the beginning.