For the fifteenth year running the Harlow Lions Club organized Old Harlow's annual Victorian Fayre. More than 10,000 people turned out on this warm and sunny day to stroll around the old town. On show were classic cars, a steam truck, miniature train and slightly bigger ponies, fun fair, birds of prey, craft stalls, old penny slot machines, Punch and Judy, and lots of have-a-go stalls.
With music, food and drink this was a festive occasion for young and old alike. Even Queen Victoria made an appearance. As well as promoting Old Harlow to businesses and providing the social event for local townspeople, the Victorian Fayre is estimated to have raised £10,000 for various charities.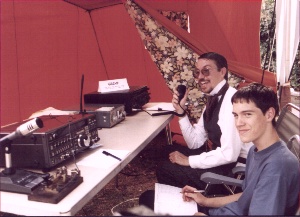 Harlow And District
Amateur Radio Society
at
The Old Harlow Victorian Fayre
Sunday 10th September 2000
The Harlow And District Amateur Radio Society used the opportunity to run a special event station - GB2VF. A number of club members took turns operating the station and talking to members of the public about amateur radio. In keeping with the historical flavour of the event a selection of old relics were on show (no, not the club members). On loan from The Radio Society of Great Britain museum we had a Morse key and Morse inker circa 1900.
Local firm Waters & Stanton kindly loaned a 1923 crystal set, a WW1 trench transceiver and a ancient spark gap generator.