My Home on the Isle of Wight
The Isle of Wight is located south of the port of Southampton halfway along the south coast of England about two miles from the mainland. It is approximately 30 miles wide and 15 miles from north to south.
I live with my good friend Gillian in a single storey building (Bungalow) constructed around 1940 with brick walls and slate roof. It is on the outskirts of Cowes in a district called Northwood which is the name of the 17th century village about half a mile away. We are at the end of a row of individual detached bungalows, to one side and the rear is a farm so the situation for amateur radio is quite good. Very close to us is a radar development and test site, my aerials are dwarfed by theirs, maybe some think my aerials belong to them!
Cowes is a well known yachting centre, the Fastnet and many other races start here, the Whitbread round the world race starts in the Solent just offshore. Power boat races run in August. There are many boatyards to build and maintain vessels that may be considerably larger than an average yacht.
The Isle of Wight has other towns with harbours and marinas to serve the yachtsman. As it is south of England the weather is usually milder, warmer in winter and a good sunshine record for the summer. The holiday business is an important part of Island economy. our population of about 130,000 is doubled in the season. We have very varied countryside, market gardening in the centre, beaches and entertainment in the East, quieter and scenic in the west. There is a good network of footpaths, the one across the central spine of the Island gives magnificent views.
It was a favourite resort for Queen Victoria and her residence Osbourne House and it's grounds are open to the public. The Victorians built many fine houses on the Island and many famous people chose to live here, Tennyson, for example, lived in Farringford House in the west of Wight, it is now a hotel. The history of the Island goes back a long way, there are preserved remains of Roman Villas, Carisbrooke Castle is an impressive Norman building dating from the 12th century. The fossilised remains of dinosaurs are a feature of the south coast.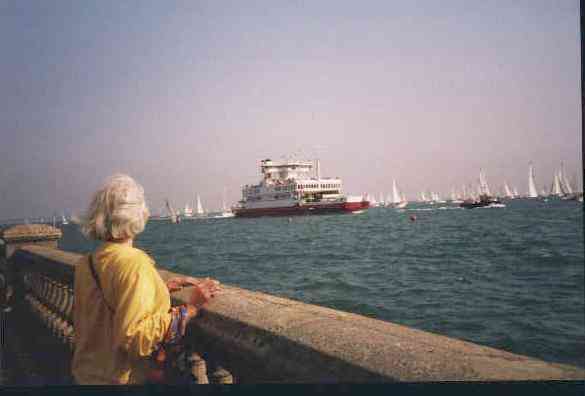 The Cowes web site http://www.cowes.co.uk/