The G4YTB Web Page
Thanks for dropping by the site............. hope you enjoy!
First of all a couple of photos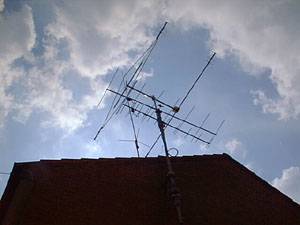 Me in the shack waiting for DX !!!!!!!! And the antennas
I live in a small village 25k south of Manchester called Moulton.
When the Cams not on you can probably find me at the bar in The Lion Hotel in the village.
I was first licensed in 1983 as G6WWN. I enjoyed working 2m contests, a year later I passed the Morse code exam and was granted the call G4YTB.
I have to extend my thanks to Barry G0ADU for putting up the new MQ1 antenna for me.(please visit his site GRC Aerials below)
My main interests are contesting, DX and award chasing, I can be found in most pile-ups.
The Shack details are as follows.
IC706II G for all the HF bands as well as 2m, 6m and 70cm.
I also have an IC221 for 2m
And an old FT101ZD
The antenna for 10m, 15m, 20m and 6m, is a 2ele MQ1 beam.
For 2m I have an 8ele beam
For 70cm I have 12ele beam.
I use a Toshiba Satellite 2140 lap top to run my log.
My E-Mail address is daveslade30@yahoo.com
If you wish to view galleries containing original artwork from across the UK then visit
I am a member of the Radio Society of Great Britain. And a member The Northern California
DX Foundation
;
Please visit these sites whilst browsing.
Buckmaster's World Wide HamCall(tm) Server
http://www.harry@hslade.co.uk/
This page was last updated Tuesday, September 10, 2002
Watch this space as I think of new stuff I'll add it to the site.