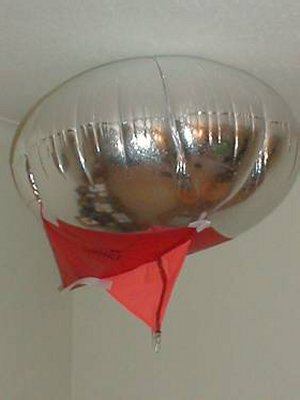 Transmit antennas I use vary by the season and the local weather. At the previous QTH there were the combined problems of neighbours, planning permission, and limited space. To solve the problems, I opted for 'aerial' aerials. The heart of the fair weather system was and still is the Helikite in various forms, made here in the UK by Allsopp Helikites. It is a combination kite and helium balloon (Mylar). Here is a Lightweight Helikite close up. Without wind, it can lift a few ounces. But with a fair breeze, it will lift about a quarter pound of line and antenna. The Sky Hook Helikite is much larger, and will lift more than a pound of payload. As an added bonus, the Sky Hook will fly in rain and snow. More on the Helikite and its specifications later.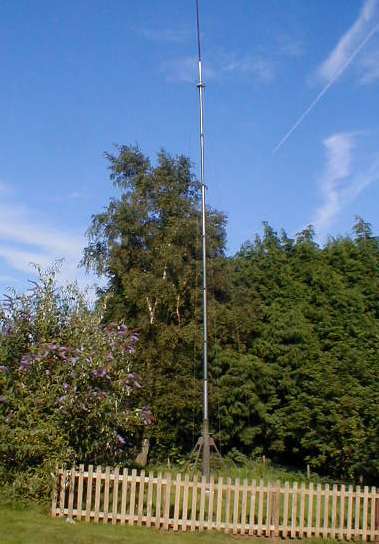 + metres. This is for nights when the weather goddess makes airborne antennas a hazard.

The 'foul weather' vertical is working against about a kilometre of wire under the ground. Radials, about 60 of them, vary in length from 45 to 120 feet. The radials are used in all configurations of Top Band antennas, from the aerial aerials to the inverted L or vertical which are used in weather that won't allow an aerostat or kites to fly.

The centre of gravity of the earth system is offset a few metres from the kite or balloon antenna's feed point in some anchor configurations, but that doesn't seem to make a big difference.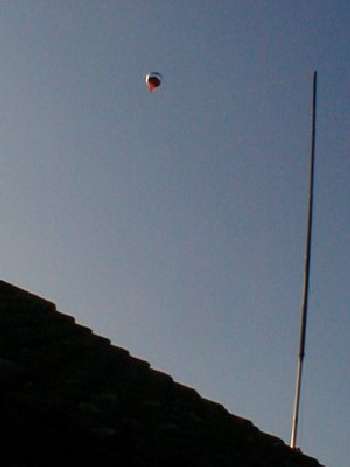 Here is the 'Protracted L' design using the Sky Hook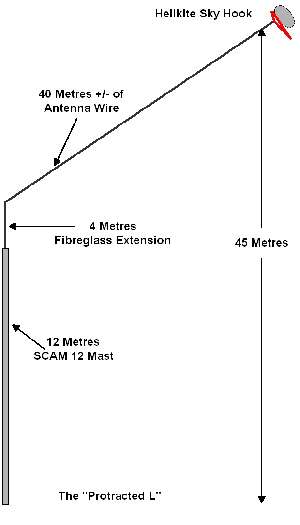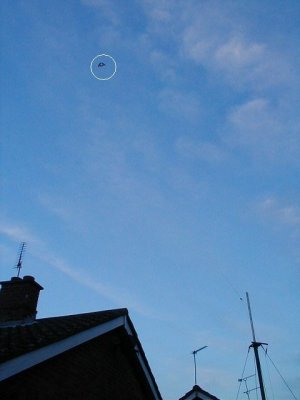 If you are interested in kites as the main method of lifting an antenna, HERE is a good link to what are called 'cell' kites. Most of the kites I use in my airborne antenna farm are cells.
on this site, but direct or indirect methods can be used. The vertical is usually 60 metres (200 feet) tall and works a treat on 160 metres.

This kite illustration is the Rock, shown later, but the Delta Box, Cody or any kite can be used to hang the aerial in the sky. To allow the kite to fly in more stable or laminar winds, sometimes about 50 to 80 feet of line is used above the antenna. More stable air makes a big difference.

For the actual antenna wire, I use 14 AWG insulated flexiweave, or insulated multi-conductor 16 gauge depending on the lifting power of the kite.

Next Page: More on Balloon and Kite Lifted Antennas (Page 3)