My Amateur Radio Station G4SKN
NEW! - PSK 31 and DIGITAL MODE Page see link below!
CLICK HERE FOR NEWS OF TWXRG SPECIAL EVENT STATION GB5NF
NEW PAGE FOR 2004! click HERE for latest pictures of the shack!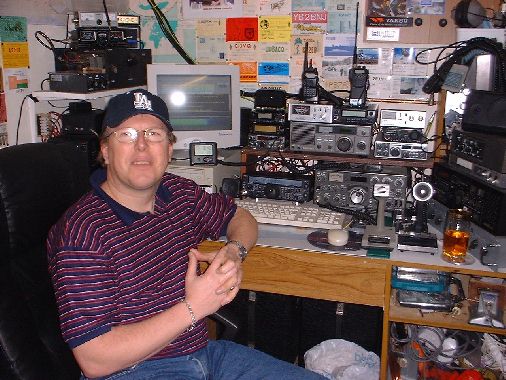 Kevin, G4SKN in the Main Shack
After a lay off from radio for some years due to other commitments, G4SKN is up and running again as from March 2001. I obtained the licence back in 1983 and was very active on the H.F bands up until about 10 years ago. Having given the equipment the once over and fixing up the antennas again, I am determined to keep the station operational and I look forward to meeting old friends and new acquaintances on the air.
Shack B with Karen, M3KIR operating
The equipment hasn't changed too much over the years and the main station H.F rig during that time has been the trusty KENWOOD TS-530S, purchased many years ago. It has given no trouble whatsoever. My latest purchase is the YAESU FT-847, which has introduced modern technology into the shack and given me access to 6m, 4m and 70cm, three bands that interest me which I have not used before. This rig will give me 2m ssb, another first as my old KENWOOD TR-7730 is FM only. I have also aquired the ICOM IC-T8E, IC-240 and IC-207H for use in the car, a YAESU FT-8100, FT-8900, FT-1500M, FT-41R and PALSTAR KH-6, also the ALINCO DRM-06, YAESU VX1000, an ASCOM mobile set for 4m FM and an ALBRECHT 10m multimode mobile. In the main shack I also use an old KENWOOD R600 shortwave receiver. Just recently I was given an even older PANASONIC DR49 which after a good cleanup works well in Shack B above. Mobile and portable H.F work is carried out using a YAESU FT-707 and ICOM IC-718 with Hustler mobile HF whips.
The evolution of another shack did not go down well at first with Karen my XYL, until she took her foundation licence exam in March '03 to obtain her call M3KIR and realised that I had been creating a shack just for her, so she can't complain about the new kit really! I told her that I would not have to buy any more radios in the future! Sorry Karen, I couldn't resist and my friend JON G0IUE <click to visit Jon's site.. said that I would most likely find a use for the new gear and he was right!!! I will have to keep guard on my radios now however because my daughter Sophie and son in law James have both just obtained the M3 ticket as well, after a long weekend foundation course that was run near Hereford in April '03. Sophie, M3DHV told her tutor that they did not have any equipment yet but that her father had lots of radios going spare for her and James, M3DHW !
My latest Radio Project has been the construction of an 80m CW QRP rig from Walford Electronics. This has turned out to an excellent rig and caused no problems during building, even for me! I have had lots of contacts already and the QRP bug is beginning to bite! I recommend that anyone looking to build a kit from scratch should visit Tim's website where you will find a superb range of well designed projects to build. Follow the link below.
CLICK HERE TO VISIT WALFORD ELECTRONICS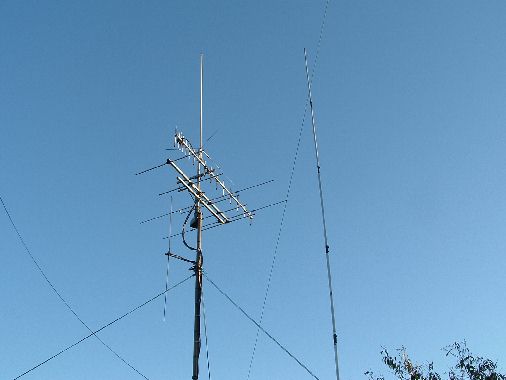 The aerial setup has slowly evolved from a simple setup to what is pictured above. For H.F I have been using a half size G5RV but have now swapped that for a doublet with a longer top section to enable easier 80m operation. I have a separate marconi 1/4 wave inverted L for top band operation and a half wave vertical for 10m.
6m, 2m and 70cm FM coverage is met using two triband verticals, one on the mast and one on the roof for in the house operation in Shack B! I also have Yagi antennas up for 2m, and 70cm and am looking forward to upgrading these as time goes on. Latest antenna on the rotator is an HB9CV for the 4m band. Halfway up the mast is a 4m vertical dipole. Nothing too exotic on the antenna front as you can see, but when I look in the log at the stations I have worked on H.F using my 'bits of wire' I think that I might as well stick with them. I must say that I felt a little inferior once, when a visiting amateur from the states informed me that he had a bigger and better antenna on his yacht! Poor me, I haven't even got a yacht yet!! I must admit though, that a lot of the really good DX here has been worked on CW which I have never found easy, although I am always trying to improve my morse.
I am a committee member of The WesseX Repeater Group TWXRG and monitor GB3WA on 433.025 whenever I can. Follow the link at the bottom of the page to our website and see the latest news and developments!
Since coming back on air I have found myself more and more addicted to the new digital data modes, mainly PSK31 and SSTV but also the new 'designer modes' like MFSK, MT63 and the new HELL modes. Most of my time is spent operating with these and CW on all bands but mainly 20m. Follow the link below to find out how my old computer and its soundcard got a new lease of life!
TO MY PSK 31 AND DIGITAL MODE PAGE
See you soon on the airwaves!
HITS SINCE FEB 2002
LINKS
MY MUSIC SITE MY ART SITE SITE OF G3MBN MUSIC WORKSHOP STUDIO
WESSEX REPEATER GROUP SITE OF G8TTI
This page now part of http://www.qsl.net the radio amateur home page site
This new site is under construction, copyright K.J. Romang 2001, email kevinromang@yahoo.com