Radio Direction Finding: "FOX HUNTING" with HARC"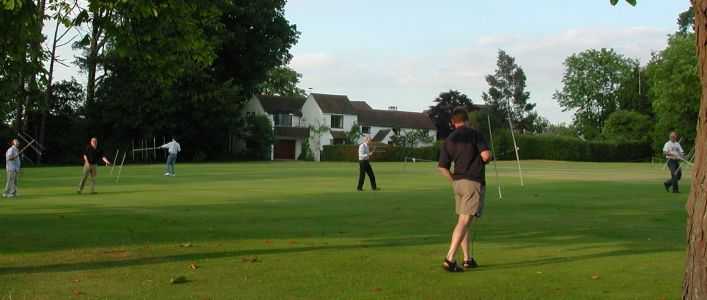 This is the start of a typical Foxhunt. In this case, Mannings Heath recreation ground which is 4 Miles South of Horsham. Seen in the photo are several ardent Horsham club (HARC) Foxhunters taking their first bearing.
From Left to Right
Mike G4EFO, Adrian G4LRP
Gavin G7DFV, Alister G3ZBU
Steve G4TPO, John G3WZT ( Me! )
Radio Direction Finding on the 144MHz band has a very good following within the Horsham Amateur Radio Club, with an average of 4 to 5 events each Year. The hidden station "The Fox" usually transmits for 2 minutes in every 10 and can be located 15-20 Miles away from the start point. As can be seen from the photo above, equipment need only be a simple affair. In most cases a 2 to 4 Element Yagi Antenna with a variable attenuator and an FM handheld radio. When working close in to the Fox, should you get that close; a well screened receiver and attenuator are a must for accurate bearings. The external view of my receiver is shown below.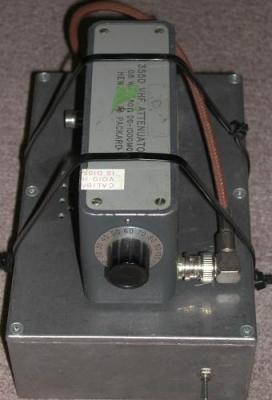 A simple Fox Hunting Receiver setup.
I use a 4 Element Yagi with an old TH21 handheld that is mounted inside a Die Cast enclosure. The battery is mounted inside with the TH21 handheld radio. The only lead going into the box is a double screened antenna coaxial cable. A good quality 0 - 90dB stepped attenuator is "Ty wrapped" to the top of the box. The only external control is an On/Off switch. The radio is left permanently "unsquelched", and direction finding is carried out by moving the antenna for maximum receiver quieting in conjunction with reduced attenuator settings. This method is very effective. Far better than trying to look at an S meter while swinging the antenna and far more sensitive to small changes in signal level.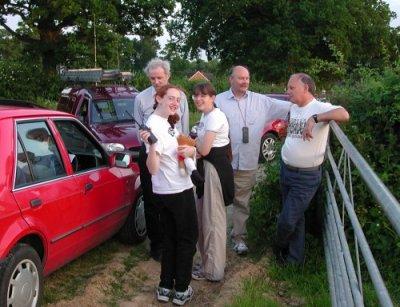 FOUND HIM !

Successful hunters at the Fox's Lair, Nr Shipley (West Sussex)

Moving from Left to Right:

ALISTER, G3ZBU. HELEN,(note lucky Fox mascot) 2E0AVH.

EMMA, 2E1IGA. MIKE, G4EFO. JOHN, G3WZT.

Hidden in the car is the wily old Fox, PAUL, G4TMC.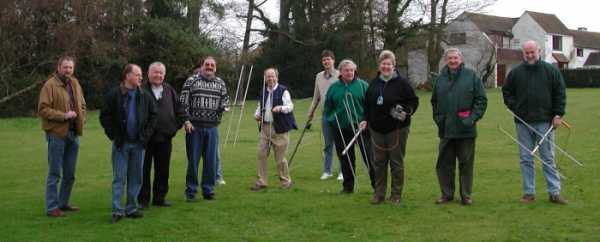 The latest Foxhunt starting at Mannings Heath.
February 24th 2002
Those with Antenna's, L to R. G4LRP, G4UDU,
G7DFV, G7EYL & G3SWC.
---
Winter Foxhunt held on 16th February 2003.
Above left. The winner: Adrian G4LRP. . . . . . . . . . . . .Last home. The Ladies team, G7EYL & Jan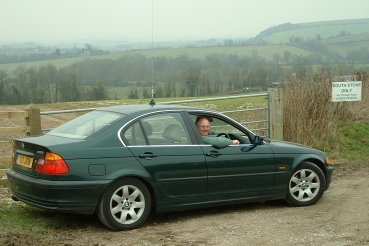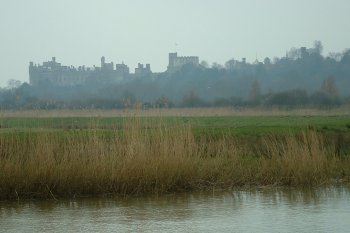 Above left. The Fox, G3WZT in his lair. . . . . . . . . . . . . . Arundel Castle from Offham.

3 of 8 teams failed to find the Fox (G3WZT) who was located at South Stoke near Arundel.

Lunch was taken in The Black Rabbit at Offham.
---
Back to the Home Page