G0HVQ/P Portable Operation
---
2006 - Hope Cove, South Devon, UK - IO80BF, WAB SX64
Took a small 2m setup - IC251E (10W) and a 3 ele yagi in Sept, as there was high pressure over the UK and the property we were renting was on top of the cliffs with a clear sea path.
Icom IC251E with PSU, and the all-important bottle of local Badger beer.
Very loud signals were heard from France and Ireland, as well as the UK, as the QTH was on the clifftop with a sea path to the south and west, which really made a difference. There was pronounced tropo propagation the first few days we were there, which decreased as the high pressure drifted away.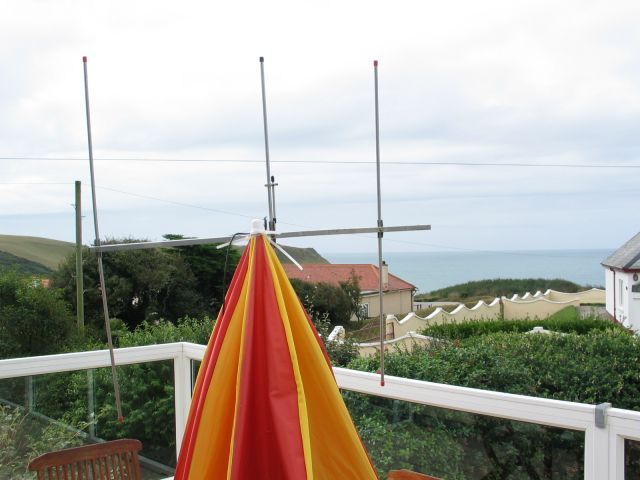 The view from the patio over the sea.
1997 - Northern Norway
Bit of a disappointing trip from a radio point of view, I took a full HF, 6m and 2m setup to the island of Harstad in northern Norway during June (hoping to catch some Sporadic E) but hardly worked a thing - maybe because it was so far north and in the auroral zone? Anyway, the only QSOs were on 2m via the local repeater.
1993 - Cyprus
Only took a small 6m setup (FT690 and wire dipole) in April and managed to work into Africa every evening via TEP. It was like clockwork, nothing on the band up to 6pm then, as it started to get dark, so the band would open - Ron, 7Q7RM (now sadly an SK) was usually first in and the loudest.
---
Back to G0HVQ main page
Page updated 15 Sept 2006