Funny Stuff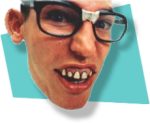 photo of a typical G7?
or is it a G4?
Not all radio hams look like this!
Fancy a laugh? Check this out!(avi clip 150k)
Are you a cat lover? Then DON'T check out this link.
Brigthen up your PC with these downloads!
New mail notification - Cartman type voice lets you know you have new E-mail!
Windows shut down - Female voice tells you what she thinks of you!
When you click on the sounds a media player should pop up allowing you to play them. To save the sounds click on 'save as' under File. To install these sounds click on settings/control panel/sounds. For E-mail click on mail then browse for area of disc where file is stored, then click ok. For windows shutdown voice, click on exit windows, browse for location of downloaded file, then click ok.
Watch this space, more to be added soon!