Types of RF Filters
Low Pass Filter (LPF)
A low pass filter passes all frequencies below a specified frequency but attenuates signals at frequencies above it. This can be used to attenuate harmonics from a HF transmitter (alleviates TVI etc).






High Pass Filter (HPF)

A high pass filter passes all frequencies above a specific frequency but attenuates signals at frequencies below it. This can be connected to a TV antenna downlead to eliminate TVI.






Band Pass Filter (BPF)
A combination of the LPF and HPF gives a band pass filter. This passes signals within a specified band of frequencies. This is common in use with 2m transmitters to eliminate harmonic interference to other bands (a 2m bandpass would typically pass signals in the frequency range of 144 - 146 MHz and attenuate all others).






Faraday Double Loop Filter (Braid Breaker)
The Faraday Double Loop Filter is commonly known as a braid-breaker. It is made from two pieces of co-ax with the inner core soldered to the outer braid.









Stub Filter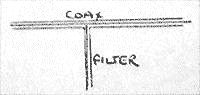 This is simply a quarter wavelength (of the desired frequency of operation) piece of coaxial connected to the co-ax from the antenna.
One stub gives about 40dB of attenuation. This also has the advantage of lowering the bandwidth of the filters. However, if the interfering signal is coming in on the braid, this filter will not be of use. The filter is left open circuit because at RF frequencies this is a short circuit.