DU1RMF
AMATEUR RADIO STATION HOME PAGE
Greetings of Mabuhay from the Philippines!
<![if !vml]>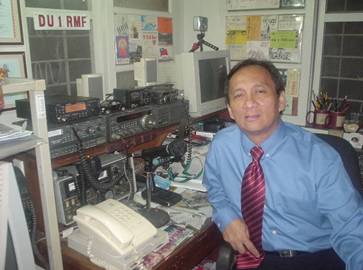 <![endif]>
Contents
Personal Information
Hot List
Contact Information
Radio Station Working Condition
Club Affiliation
Personal Interests
Name : Rosauro " Ross " M. Fernando
Date of Birth : October 1, 1950
Status : Married ( xyl's name : Marlyn ) with one daughter, Hanna 22 years old.
Profession : Realtor, Industrial Engineer
DX1BBC Amateur Radio Club Station Homepage
<![if !vml]>

<![endif]> 7.035.00 Mhz Ragchewers
JCG Corporate Group Homepage

Beta Sigma Fraternity Homepage
Pasay-Makati Realtor's Board Homepage
Foster Care Association of the Philippines, Inc. ( FCAP) Homepage
U.P. Prep Class of 1968 Homepage
Electronic mail address : du1rmf@qsl.net, rossf@broline.com , du1rmf@yahoo.com
Web address : DU1RMF HOMEPAGE
Home QTH :  Binan, Laguna, Philippines 4024
Home phone : ( 049 ) 5116330 & (049)4110448
Office phone : 8129877 and 8935650
Mobile phone : (0917) 8108974
VOIP phone : ( 702) 9870349
Yahoo messenger ID : du1rmf
Skype name : du1rmf68
Radio Station Working Condition
<![if !vml]>
<![endif]>
Yaesu FT 707 HF Transceiver w/ Antenna Tuner, 100 watts
Kenwood TS 430S & 440 SAT HF Transceiver, 100 watts
Kenwood TS 50 HF Transceiver, 50 watts
Collins KWM2 HF Transceiver, 100 watts
Icom 25 A VHF Transceiver, 25 watts
Kenwood TH 78 UHF Handheld Transceiver, 5 watts
ICOM IC V68 Handheld VHF Transceiver, 5 watts
AEA PCB Pakratt 88 Packet Modem
Homebrewed Baycom Modem
Personal Computer IBM Compatible Pentium 4
Inverted V Dipole antenna for 40 meters 60 ft up
Hygain Dual Tri-band HF Yagi Antenna for 10 ,15 & 20 meters
Twin 5 element VHF yagi antenna
Omni ( J-pole) VHF antenna
All antennas on top of a 60 ft trilon tower
Before Breakfast Club ( BBC), Inc., an amateur radio club afilliated with the Philippine Amateur Radio Association ( PARA)
Involved in volunteer foster care . Takes care of abandoned children by providing temporary home care for them before they are reunited with their families or prior to being taken in by a permanent adoptive family. Plays badminton three times a week and plays golf on weekends .
<![if !vml]>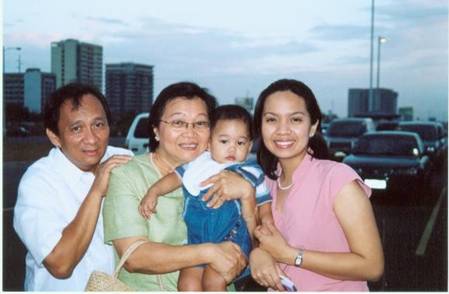 <![endif]>
Photo taken with one of 15  foster children that we have taken cared of to date  with my daughter Hanna (right) and wife Marlyn ( w/ baby)
73 and all the best !
We'll be happy to hear from you, click here and e-mail us!
Last Revised: February 2006
DU1RMF All Rights Reserved 1997