Drowned Rats Radio Group - M0HRF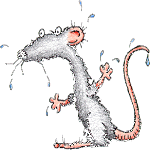 News One
The DRRG is now affilliated to the Radio Society of Great Britain (RSGB).

This means that members of DRRG will be able to "pool" their points in RSGB AFS and UKAC events.
News Two
We came second in our section of the 2nd 144 MHz Backpackers contest.

We weren't a million miles away from first position, a bit of station refinement and brushing up some of our operating techniques may just make the difference next time.
News Three
During the 3rd 144 MHz Backpackers contest we tried a new site in JO01. It showed promise even with a very simple setup.

Of course, as we drove back after the contest we found what looked to be a better location, we'll try that another time, the only problem was that it didn't have an ice cream van on site.