Spectrum Lab allows to select more than one audio file for analysis. You can select multiple files for analysis using the SHIFT or CONTROL keys in the standard file selector box. The selected files will be internally arranged in a play-list.
See also: Triggered Audio Recorder; wave file analysis, analysing other audio file formats using Winamp (2) plugins; Spectrum Lab's main index .
---
Though SL was never meant to be an audio player, the playlist can be viewed and edited. To open the playlist window shown below, select
"File" ... "Audio files" ... "Show, load or edit audio file playlist".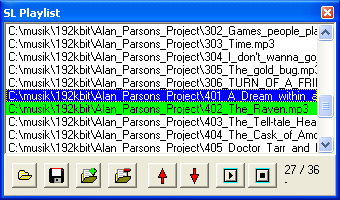 The green marker indicates the file currently being played, or (if not playing yet), selected for playing.
The blue "selector" marks the currently selected item (to be "moved" or deleted). The selected item can be moved or removed. Of course, removing an audio file from the list doesn't erase it from the disk.
The buttons below the playlist are :
(Open) opens an existing playlist on disk (*.m3u), or creates a new one by selecting a couple of *.wav, *.mp3 or *.ogg files. The old contents of the playlist will be overwritten.
(Save) stores the playlist as a simple textfile (*.m3u) on disk.
(Add, button with a green "plus"): Appends more files to the playlist.
(Remove, button with a red "minus") removes the blue selected item from the list.
move the selected item up, towards the top of the list
move the selected item down, towards the end of the list
Start playing, beginning with the (blue) selected file.
Stop playing.
Alternatively, double-click the list to start playing a file, or drag and drop files with the mouse to re-arrange the list.
Note: A playlist may contain any kind of audio file - the editor doesn't care if a file format is supported by SL or not. To play MP3 files, you need to install a few winamp plugins as explained here . Only WAVE audio (*.wav) and or Ogg/Vorbis (*.ogg) were natively supported by SL by the time of this writing.
---
Last modified: December 2nd, 2008.