Kirstin`s Homepage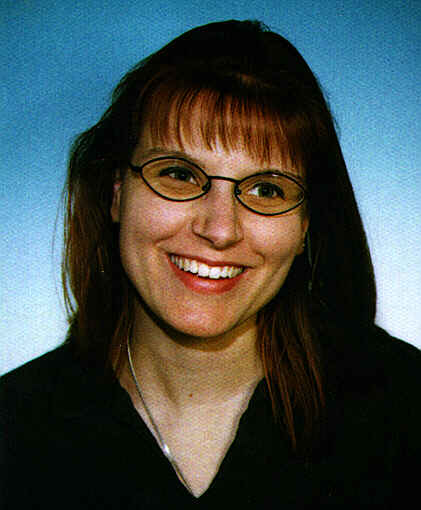 Hallo, wie geht's denn so?
Hello, how are you today ?
UTC
Schreibt doch, wenn Du mir davon erzaehlen moechtest.
Just send an e-mail
if you actually wanna tell me.
Oh, by the way, you are visitor number
since 01/01/1998
Als erstes, ein paar Infos ueber mich und mein Umfeld.
First of all, I thought about giving you some information about me and my family.
I was born in Boeblingen, Germany in April 19xx , and I`m still living there.
Ich wurde in Boeblingen in Deutschland im April 19xx geboren und wohne noch dort.
I'm an only child.
Ich bin Einzelkind.
I gratuated from a local Wirtschaftsgymnasium in June 1999.
Das Abitur habe ich im Juni 1999 auf dem hiesigen WG bestanden.
Now, I started an apprenticeship in a hotel in my hometown.
Vor kurzem habe ich eine Ausbildung in einem Hotel in Boeblingen begonnen.
Meine Mutter Ingrid arbeitet in einer Bank und mein Vater Walter ist Techniker.
I am a member of the since April 1987.
Seit 1987 bin ich Mitglied im Deutschen-Amateur-Radio-Club.

I took the my first test in 1994 and got the callsign: DG9SBT.
Two years later, I passed an other test to upgrade my license. Now: DL3YLA.
Meine erste Pruefung habe ich 1994 abgelegt und bekam das Rufzeichen: DG9SBT.
Zwei Jahre spaeter bestand ich eine weitere Pruefung und bekam DL3YLA.
What I like to do:
Was mir Spass macht:
I love
Ich liebe es

to play squash
Squash zu spielen
to watch TV (-just can't miss my daily soap-operas "Marienhof" and "Verbotene Liebe")
Fern zu sehen ( besonders meine Seifenopern "Marienhof" und "Verbotene Liebe")
to eat (pizza, cereals, salad, candy,...)
zu Esssen (Pizza, Muesli, Salat,...........)
to go to gymnastic classes to work out
ins Fitnesstudio zu gehen
to go shopping (well, if there is money to do so)
Einkaufen zu gehen (naja, wenn Geld uebrig ist)
to read cartoons (e.g. Uli Stein)
Kartoons zu lesen (besonders von Uli Stein)
to meet and hang out with friends (5 pictures)
Freunde zu treffen

and of course listening to all kinds of music
und natuerlich Musik zu hoeren, z. B. von Xavier Naidoo, Wolfgang Petry und

Another passion of mine is travelling
So far, now some interesting, funny, useful and hopefully entertaining links:
So, das ist alles fuer den Moment. Nun noch ein paar meines Erachtens interessante
Links:





Arie's Homepage (4X6UO)
tv guide
Tagesschau
talk with Arabella
flirt with Herzblatt
Kreissparkasse Böblingen
CongressCentrum Böblingen
DARC- Ortsverband Böblingen P26
NASA Homepage
NASA-TV
CNN
Also gut, viel Spass diesen Winter,...
Alright people, enjoy the winter,...
Mail me (I want all the news!)






[Home - Friends - Travelling ]