my equipment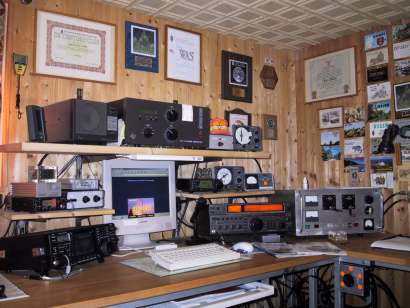 Have a look of my Rig and Antennas:
Above: ICOM SP-8, ACOM 1000 and controlboxes.
Thereunder: Packet radio AZDEN PCS-9600D, TNC2Q,SCS PTC-IIe, Table: ICOM IC-756PROII, TFT 15&quote;, ICOM IC-775DSP and my 'BIG GUN'.
Antennas:for the lower Bands I use Inverted Vee for 80m directed to west, for 160,40 and 30m a Multi- Banddipol and also a Butternut for 80/40m.
The Picture below shows my TH11DXS and a 5-Element beam for 6m, on a 15m Tower.