Dieter Adam DJ1BC

Rehgrund 11,

D- 49479 Ibbenbueren.

Phone ++49 (0)5451-502854

FAX ++49 (0)5451-502986

Email dj1bc@darc.de
<![if !vml]>
<![endif]>
<![if !supportEmptyParas]> <![endif]>
German:                                                                               English
<![if !supportEmptyParas]> <![endif]>
Amateurfunk...
... ist wieder aktuell! Seit unserem Hausbau ist DJ1BC wieder aktiv. Meine Lizenz besitze ich seit 1977.
Schwerpunkt: Kurzwellen-Funk in Telegrafie, aber auch Phonie. Meistens Weit-Verkehrsverbindungen, sogenanntes "DX".
Auf der kurzen Welle bin ich meist auf der Jagd nach seltenen Stationen / Ländern. (Für Kenner: DXCC-Stand über 250).
Es gibt zwei weitere Lizenzen in meiner Familie:
DK2BH (Werner, mein Vater) und DL6BBF (Detlev, mein Bruder). Gd fr family-Award!
Ich liebe CW- und bin also so gut wie ausschließlich in Telegrafie qrv.
Aktuell besteht mein Equipment aus:
Kurzwelle
Kenwood TS-940SAT, Endstufe TL-922, Log-Periodic-Beam P5c (DJ2UT-Sommer) sowie Diamond W8040-Trapdipol, Kenwood MC60-Mike.
VHF/UHF
Kenwood TS-790, Kenwood MC60-Mike, 15-Element-Veron-Beam
Zubehör
Bencher-Key mit Eigenbau-Speicher-Elektronik, Kenwood-Headphones
<![if !vml]>

<![endif]>
<![if !supportEmptyParas]> <![endif]>
<![if !supportEmptyParas]> <![endif]>
<![if !vml]>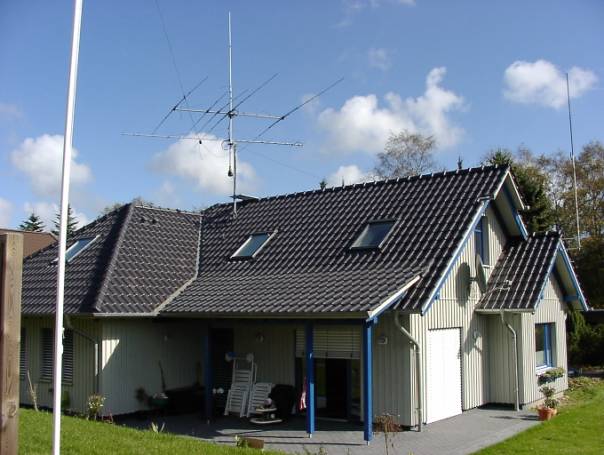 <![endif]>
Email: DJ1BC@DARC.DE

http://www.dieteradam.de
DJ1BC (born 01. January 1961) was licenced in 1977 (DB7WG from ´77 to ´79). I´m working as a Technical Manager for a LAN/WAN-Infrastructure-Company.
I prefer DXing, using CW often (and fast). Often to find in Pile-Ups on SSB, too. Life is too short for QRP!!
Back on the air with a DJ2UT-Beam ("Sommer-Monster", 5-Element Yagi for 10/15/20m without Traps..!) since October 2002. Q-Tek Penetrator for WARC-Bands.
HF-Rig: Kenwood TS-940SAT, Linear-Amplifier Kenwood TL-922. VHF-Rig: Kenwood TS-790, 3-Band-Groundplane.
An other 7-Element-Sommer-Beam (XP-707) and a 17m-Tower are actually waiting to be installed.
Other HAMs in our family: DK2BH (Werner, my father) and DL6BBF (Detlev, my brother).
Other Hobbies: teaching Music and conducting Bands. (See my homepage for further information).
73s! Dieter, DJ1BC
<![if !supportEmptyParas]> <![endif]>
<![if !supportEmptyParas]> <![endif]>
<![if !vml]>
<![endif]>