List of some DX QSOs by DD7PC on 10-80m
Type of propagation: All Mode: All mode
From 01/01/2004 to 31/08/2006
---
| | | | | | | | | | |
| --- | --- | --- | --- | --- | --- | --- | --- | --- | --- |
| DATE | TIME | CALLSIGN | LOCATOR | TX | RX | Md | REMARKS | QRB | FREQ |
| 25/10/2004 | 06:14 | FP/VE7SV | GN17oa | 59 | 59 | SSB | with 100W, FD-4 | 4635 | 40m |
| 31/10/2004 | 03:56 | KC1XX | FN42dr | 5914 | 5905 | SSB | contest,100W,FD4 | 5877 | 50m |
| 31/10/2004 | 04:13 | W3LPL | _ | 5914 | 5905 | SSB | contest,100W,FD4 | | 40m |
| 22/09/2004 | 14:44 | VU2SI | MM71QJ | 54 | 55 | SSB | Datta | 5821 | 15m |
| 01/11/2004 | 06:30 | ZL4IR | RE34UO | 59+ | 59 | SSB | Ed | 18407 | 20m |
| 05/11/2004 | 14:42 | YC3BDJ | OI62HA | 45 | 55 | SSB | Tom | 11722 | 15m |
| 29/01/2005 | 00:02 | PJ2GT | FK52MC | 59 | ? | SSB | 500W, FD-4 | 8050 | 40m |
| 16/02/2005 | 06:08 | PT7BZ | HI06SG | 59 | 59 | SSB | 500W, FD-4 | 7440 | 40m |
| 25/02/2005 | 00:03 | YY1RDX | FJ49SI | 55 | bad | SSB | 500W, FD-4 | 8389 | 40m |
| 17/03/2006 | 00:56 | WB2SZR | FN2ØTK | 599 | 579 | PSK31 | 80W+Regenrinne | 6209 | 40m |
| 07/04/2006 | 15:08 | 9N7JO | Nepal | 59 | 58 | SSB | 100W+Regenrinne | <![if !supportEmptyParas]> <![endif]> | 15m |
| 20/03/2006 | 00:56 | TK1CX | JN42 | 59 | 59 | PSK31 | 50W+Regenrinne! | 862 | 40m |
| 20/08/2006 | 13:28 | 7XØRY | _ | 579 | 559 | RTTY | 70W+Regenrinne | <![if !supportEmptyParas]> <![endif]> | 40m |
| 13/04/2006 | 00:40 | MMØMWW | _ | 59 | 59 | PSK31 | 50W+Regenrinne | | 80m |
| 07/04/2006 | 16:12 | OH2LQJ | KP2ØHR | 599 | 599 | RTTY | 70W+Regenrinne | 1580 | 30m |
| 18/10/2006 | 13:40 | CX70C | GF28AH | 579 | 559 | PSK31 | 50W+Regenrinne | 11042 | 15m |
| 23/08/2007 | 15:27 | JA3RQ | PM74RK | -13 | -16 | JT65A* | 50W+Regenrinne | 9296 | 20m |
| 30/08/2007 | 13:20 | VK4WS | QG62OK | -14 | -13 | JT65A | 85W+Regenrinne | 16151 | 20m |
| 23/02/2010 | 16:25 | DV1JM | PK03ms | 59 | 55 | SSB | 100W+Regenrinne | 10398 | 20m |
*JT65 Digimode is more and more popular also on HF bands!
very limited space for an antenna. I tried a couple of compromise antennas like EH-40, Wimo R1 Minidipol 40m band, EF-1. Best result on 40 and 80m was a longwire antenna like FD-4. On 20/15/10m the EF-1 vertical with a tuner was not bad. Actual i need some space for my VHU/UHF-antennas and so i use on shortwave just a matched FD-4 where the long wire is replaced by the eaves gutter ("Dach-/Regenrinne"). With a low pass filter and a HF choke ("Mantelwellensperre") i have no complaines about TVI. I can match all band from 160 - 10m and i made a couple of nice DX. Still a compromise, but unbelievable it works (see table above).
(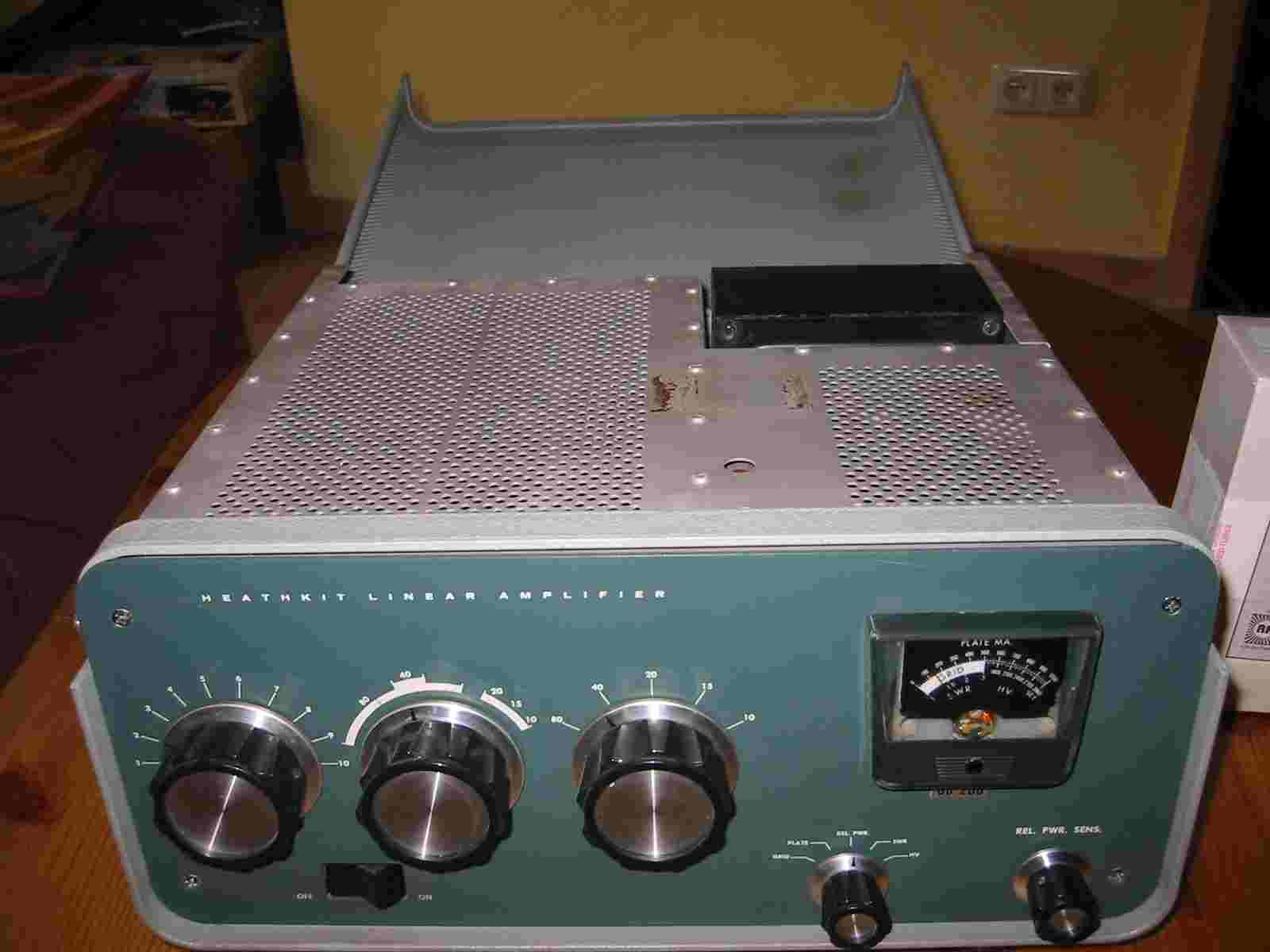 (sold)
QRP Fun
with a very small homemade 40m SSB/CW Tranceiver by DL7QK. Made some nice QSO's with just 3W. With the homemade 50W PA i must not call very long CQ to get an answer :-)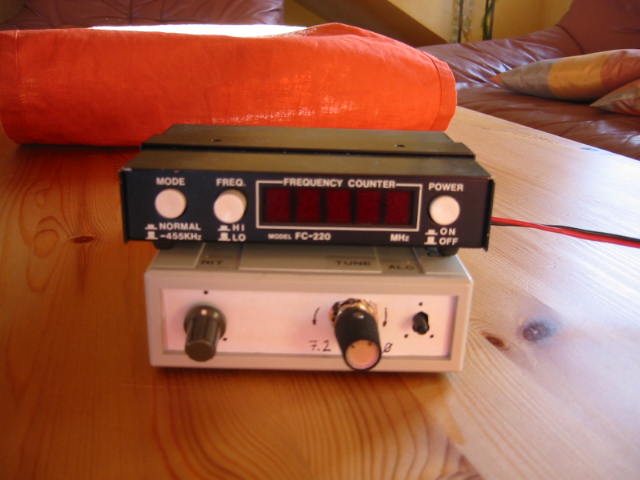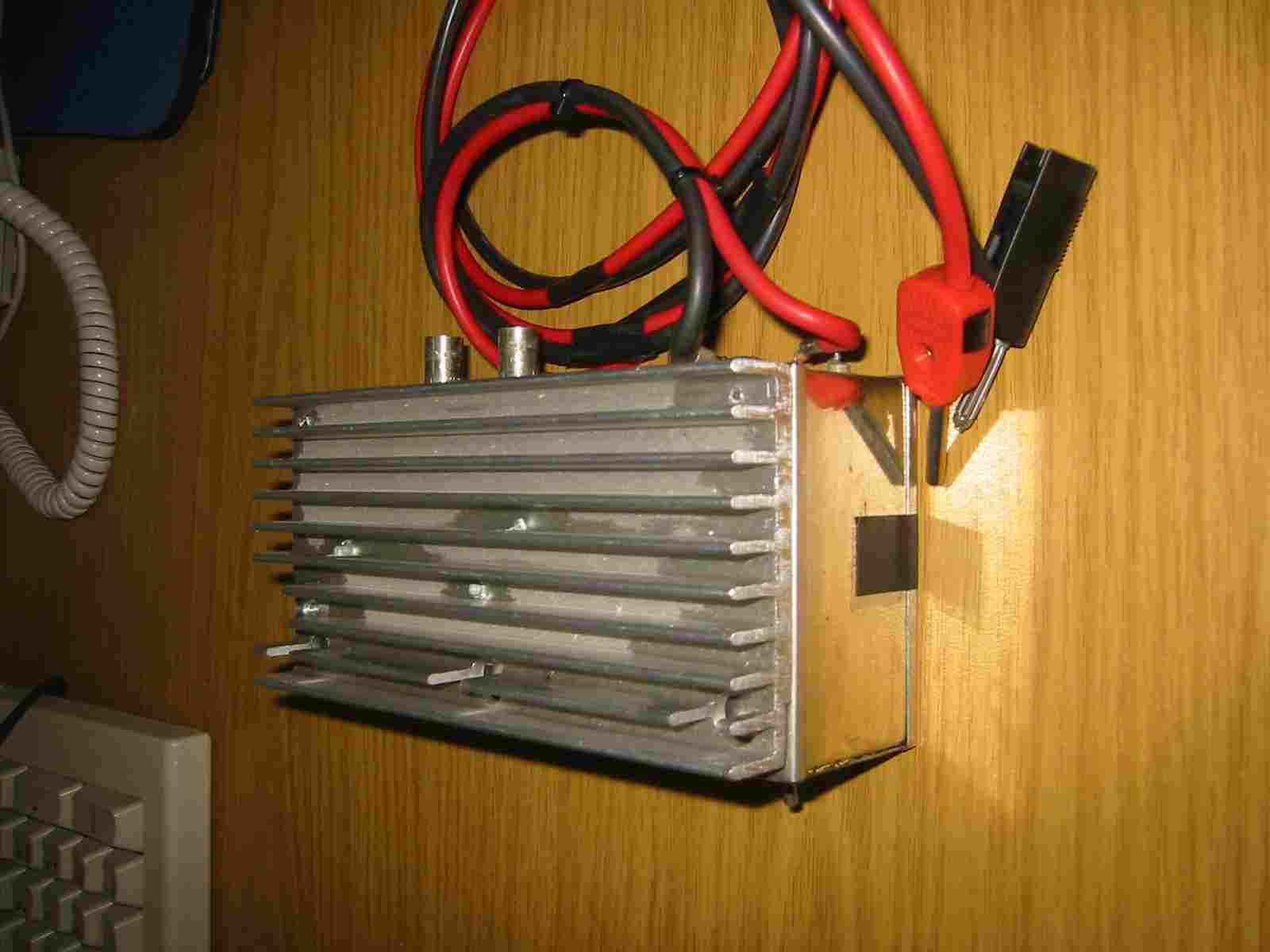 QRP TRX (on top a frequency counter) and left my monoband 50W PA for the 40m band.