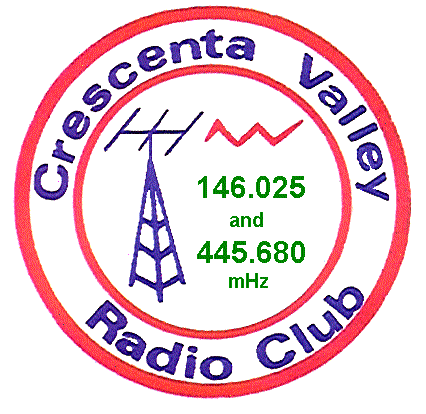 Crescenta Valley
Radio Club
146.025(+) PL 136.5 & 445.680(-) PL 136.5
Serving The Foothills Since 1953
from Mt. Thom, overlooking Glendale
---
NEXT CLUB BREAKFAST (First Saturday of the Month):
Saturday, November 1, 2014 - 7:30AM
Conrad's Restaurant - Glendale, CA

820 North Central Ave, Glendale, CA 91203
Transponder Net.
Due to the relocation of the link to the GB3NS Repeater in Surrey, the Transponder Net is currently suspended. Look for its return soon! It is an "ordered" Net, check-ins are taken in advance and the rotation follows the order of check-in.
---
NEXT CLUB MEETING:

Thursday, November 13, 2014 - 7:30PM
USC/Verdugo Hills Hospital - Council Room D
---
Useful Links:
Monthly Event:
Time:
Where:
Every Sunday:
Club Net
8:00 PM PST
CVRC 146.025 Repeater (Plus Offset, 136.5 PL)

Every Sunday:


No Chit-Chat Net

7:55PM PST
CVRC 445.680 Repeater (Minus Offset, 136.5PL)
First Saturday of each month:
Club Breakfast
7:30 AM PST
Conrad's Restaurant - Glendale, CA
Second Thursday of the month (except August & Dec):
Club Meeting
7:30 PM PST

Verdugo Hills Hospital - 4th Floor Council Room D
Every Monday (except DCS Holidays):
G.E.A.R.S. Check-ins
7:00PM Pacific
K6CCC Repeater 445.380 (Minus Offset, 100 PL)
Every Thursday:
P.E.R.C.S. Check-ins
8:00 PM PST
144.465 Simplex
Last Saturday of each month:
TRW Swap Meet
7:00 AM PST
El Segundo, CA
Webmaster: W6MW
w6mw@arrl.net
Site Updated 10/13/2014