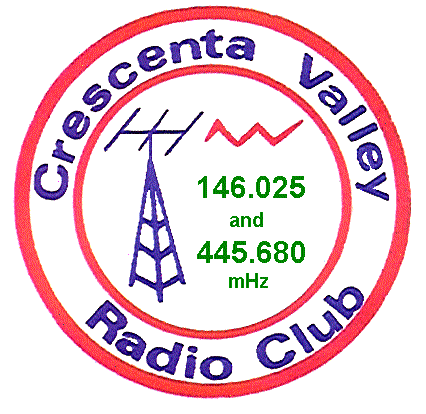 Crescenta Valley
Radio Club
146.025(+) PL 136.5 & 445.680(-) PL 136.5
Serving The Foothills Since 1953
from Mt. Thom, overlooking Glendale
---
NEXT CLUB BREAKFAST (First Saturday of the Month):
Saturday, March 1, 2014 - 7:30AM
Conrad's Restaurant - Glendale, CA

820 North Central Ave, Glendale, CA 91203
Saturday, March 1, 2014 - 9:15AM - Transponder Net.
The return of our regular Net with our sister club, the Coulsdon Amateur Transnmitting Society (CATS) in Surrey, UK. Listen on the 440 repeater (N6JLY). Check-ins will be taken about 10 minutes before. It is an "ordered" Net, check-ins are taken in advance and the rotation follows the order of check-in.
---
NEXT CLUB MEETING:

Thursday, March 13, 2014 - 6:30PM - Note Special Time
Verdugo Hills Hospital - Council Room D
---
Useful Links:
Monthly Event:
Time:
Where:
Every Sunday:
Club Net
8:00 PM PST
CVRC 146.025 Repeater (Plus Offset, 136.5 PL)

Every Sunday:


No Chit-Chat Net

7:55PM PST
CVRC 445.680 Repeater (Minus Offset, 136.5PL)
First Saturday of each month:
Club Breakfast
7:30 AM PST
Conrad's Restaurant - Glendale, CA
Second Thursday of the month (except August & Dec):
Club Meeting
7:30 PM PST

Verdugo Hills Hospital - 4th Floor Council Room D
Every Monday (except DCS Holidays):
G.E.A.R.S. Check-ins
7:00PM Pacific
K6CCC Repeater 445.380 (Minus Offset, 100 PL)
Every Thursday:
P.E.R.C.S. Check-ins
8:00 PM PST
144.465 Simplex
Last Saturday of each month:
TRW Swap Meet
7:00 AM PST
El Segundo, CA
Webmaster: W6MW
w6mw@arrl.net
Site Updated 2/20/2014