Turn on you computer speakers, the sound you hear is my Top-Band signal in the Island of St.Martin in the Caribbien, watch the photo of FS/AH8DX 160m. loop antenna standing in the balcony of the Hotel where he worked CQWW SSB 2002.
FS/AH8DX was 59+ in CT1.
(If you need CT1 in Topband let me know to my e-mail: zemurtosa@mail.telepac.pt )
The edges have always made me wonder about propagation and bands behaviour, for years I have been active in 50 and 144 Mhz having the chance to study the Tropoduct, Sporadic-e, Meteor-scatter and F2 phenomena in the higher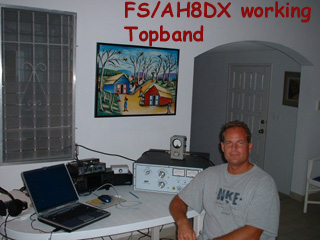 frequencies but the lower-end was still a mistery to me. Indeed until 1999 I had only a few 160m. QSO's, nevertheless the Low-bands issue came up during one of those dinners where Dick PA3FQA, Lopes CT1CJJ and I talked about DX, Dick had an Inverted L and worked over 130 DXCC's in a year time , this looked good !
In a couple of days we had designed single feedline inverted L's for 80 and 160m. (with no radials at all) and made them work. Having salt-water 1,7m. underground really helped keeping SWR flat and in that same "summer night" nomatter QRN levels I was able to work a couple of CX's and a PY.
Comparing the Inverted L's against the Inverted V antenna for the same bands I can say now that the 160m. Inverted L performs much better than the dipole, but in 80m. the dipole has much better RX and TX.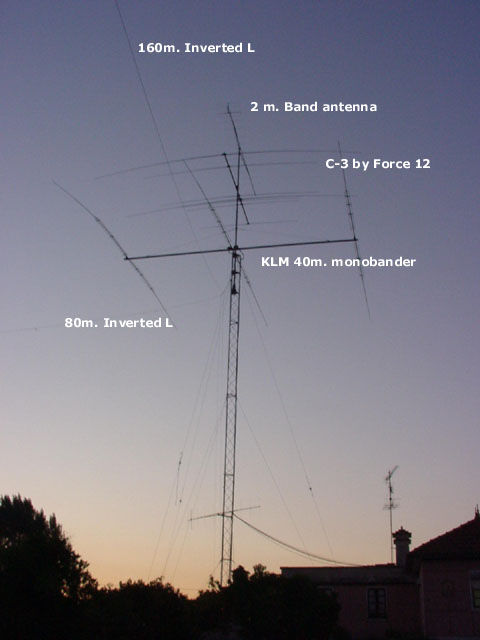 Working conditions for Topband:
RX/TX: Kenwood TS-870
Antenna: Inverted L
Linear amp.: Ameritron AL-1500 (1.5 Kwatt)
and ofcourse my Vibroplex (s/n 41719) CW paddle.
DXCC's worked until February 2011: 253 Entities
DXCC's Confirmed until February 2011: 250 Entities
(in the photo you can see my Low-band inverted L's hanging in the top of my tower #1)
And here is my firsts list in 1.8 Mhz:
| | |
| --- | --- |
| 1A0KM - SOV MILITARY ORDER OF MALTA | 1A4A |
| 3A - MONACO | 3A/DL3OCH |
| 3B7 - AGALEGA & ST BRANDON ISLANDS | 3B7SP |
| 3B8 - MAURITIUS ISLAND | 3B8/OM5RW |
| 3B9 - RODRIGUEZ ISLAND | 3B9C |
| 3DA0 - SWAZILAND | 3DA0EL |
| 3V - TUNISIA | TS7N |
| 3W, XV - VIET NAM | 3W2LC |
| 3XA - GUINEA | 3XY7C |
| 4J - AZERBAIJAN | 4K5CW |
| 4L - GEORGIA | 4L5O |
| 4O - MONTENEGRO | 4O6DX |
| 4S - SRI LANKA | 4S7CWG |
| 4U1ITU - ITU HQ | 4U1ITU |
| 4U1UN - UNITED NATIONS HQ | 4U1UN |
| 4X - ISRAEL | 4X3A |
| 5A - LIBYA | 5A2A |
| 5B - CYPRUS | P3A |
| 5H - TANZANIA | 5H3RK |
| 5N - NIGERIA | 5N0OCH |
| 5R - MADAGASCAR | 5R8RJ |
| 5T - MAURITANIA | 5T5SN |
| 5U - NIGER | 5U1A |
| 5V7 - TOGO | 5V7C |
| 5Z - KENYA | 5Z4DZ |
| 6W - SENEGAL | 6W/ON5TN |
| 6Y - JAMAICA | W7CB/6Y5 |
| 7P - LESOTHO | 7P8OK |
| 7Q - MALAWI | 7Q7MM |
| 7X - ALGERIA | 7X5JF |
| 8P - BARBADOS | 8P9JS |
| 8Q - MALDIVES | 8Q7DV |
| 8R - GUYANA | 8R1RPN |
| 9A - CROATIA | 9A2TW |
| 9G - GHANA | 9G5OO |
| 9H - MALTA | 9H1XT |
| 9J - ZAMBIA | 9J2KC |
| 9K - KUWAIT | 9K2MU |
| 9L - SIERRA LEONE | 9L1AB |
| 9M2 - WEST MALAYSIA | 9M2AX |
| 9Q - DEM. REP. OF THE CONGO | 9Q1EK |
| 9U - BURUNDI | 9U0VB |
| 9V - SINGAPORE | 9V1GO |
| 9X - RWANDA | 9X0R |
| 9Y - TRINIDAD & TOBAGO | 9Y4W |
| A2 - BOTSWANA | A25OOK |
| A4 - OMAN | A45XR |
| A6 - UNITED ARAB EMIRATES | A61AJ |
| A7 - QATAR | A71EM |
| A9 - BAHRAIN | A92ZE |
| BV - TAIWAN | BU2AQ |
| BY - CHINA | BA4RF |
| C31 - ANDORRA | C31LJ |
| C5 - THE GAMBIA | C56R |
| C6A - BAHAMAS | C6AGN |
| CE - CHILE | XQ6ET |
| CE9, KC4 - ANTARCTICA | R1ANN |
| CN - MOROCCO | CN8WW |
| CO - CUBA | CO8LY |
| CT - PORTUGAL | CT1EDY |
| CT3 - MADEIRA ISLANDS | CT3FF |
| CU - AZORES | CU2CE |
| CX - URUGUAY | CX2CB |
| CY0 - SABLE ISLAND | CY0MM |
| CY9 - SAINT PAUL ISLAND | CY9A |
| D2 - ANGOLA | D2EGH |
| D4 - CAPE VERDE | D44BS |
| D6 - COMOROS | D68C |
| DL - FEDERAL REPUBLIC OF GERMANY | DH4RL |
| DU - PHILLIPINES | DU1/JJ5GMJ |
| E3 - ERITREA | E30NA |
| E4 - PALESTINE | E44/HA1AG |
| EA - SPAIN | EA1RT |
| EA6 - BALEARIC ISLAND | EA6AEQ |
| EA8 - CANARY ISLAND | EA8AK |
| EA9 - CEUTA & MELILLA | EA9EA |
| EI - IRELAND | EI7GL |
| EK - ARMENIA | EK8PL |
| EL - LIBERIA | 5L2MS |
| ER - MOLDOVA | ER4DX |
| ES - ESTONIA | ES1AJ |
| ET - ETHIOPIA | ET3PMW |
| EU - BELARUS | EU1AB |
| EX - KYRGYZSTAN | EX2A |
| EY - TAJIKISTAN | EY8MM |
| F - FRANCE | F6CBL |
| FG - GUADELOUPE | FG5BG |
| FH - MAYOTTE ISLAND | TX5T |
| FJ - SAINT BARTHELEMY | TO5FJ |
| FK - NEW CALEDONIA | FK8CP |
| FK/C - CHESTERFIELD IS. | TX3A |
| FM - MARTINIQUE | FM5GU |
| FO - FRENCH POLYNESIA | TX4T |
| FO0 - CLIPPERTON ISLAND | FO0AAA |
| FP - SAINT PIERRE & MIQUELON | FP/N8KR |
| FR - REUNION ISLAND | FR5DN |
| FR/J - JUAN DE NOVA, EUROPA | TO4E |
| FR/T - TROMELIN ISLAND | FR/F6KDF/T |
| FS - SAINT MARTIN | FS/AH8DX |
| FT5X - KERGUELEN ISLAND | FT5XO |
| FY - FRENCH GUIANA | FY5KE |
| G,M - ENGLAND | G0LJT |
| GD - ISLE OF MAN | MD4K |
| GI,MI - NORTHERN IRELAND | GI0KOW |
| GJ - JERSEY | MJ/K8PT/P |
| GM,MM - SCOTLAND | GM4MFL |
| GU - GUERNSEY | GU3MBS |
| GW,MW - WALES | GW4BLE |
| HA - HUNGARY | HA1CW |
| HB - SWITZERLAND | HB9HFL |
| HB0 - LIECHTENSTEIN | HB0/HB9AON |
| HC - ECUADOR | HC2SL |
| HC8 - GALAPAGOS ISLANDS | HC8N |
| HH - HAITI | 4V200YH |
| HI - DOMINICAN REPUBLIC | HI3NR |
| HK - COLOMBIA | HK3O |
| HK0 - SAN ANDRES ISLAND | HK0GU |
| HL,DS - REPUBLIC OF KOREA | HL3IUA |
| HP - PANAMA | HO1A |
| HR - HONDURAS | HQ8R |
| HS - THAILAND | HS0ZEE |
| HV - VATICAN CITY | HV0A |
| HZ - SAUDI ARABIA | HZ1FS |
| I - ITALY | IN3QCI |
| IS0,IMO - SARDINIA | IS0OMH |
| J2 - DJIBOUTI | J28XX |
| J3 - GRENADA | J38PA |
| J5 - GUINEA-BISSAU | J5X |
| J6 - SAINT LUCIA | J6DX |
| J7 - DOMINICA | J75PA |
| J8 - SAINT VINCENT | J8PA |
| JA - JAPAN | JH1ORA |
| JD1O - OGASAWARA | JD1BMH |
| JT - MONGOLIA | JT1CO |
| JW - SVALBARD | JW5QFA |
| JX - JAN MAYEN | JX7DFA |
| JY - JORDAN | JY9QJ |
| K, W - UNITED STATES OF AMERICA | AA6YQ |
| KG4 - GUANTANAMO BAY | KG4SB |
| KH6,KH7 - HAWAII | KH7XS |
| KL7 - ALASKA | KL7HBK |
| KP2 - US VIRGIN ISLANDS | NP2B |
| KP3,KP4 - PUERTO RICO | KP4AAQ |
| KP5 - DESECHEO ISLAND | K5D |
| LA - NORWAY | LA3XI |
| LU - ARGENTINA | LU7HN |
| LX - LUXEMBOURG | LX0LT |
| LY - LITHUANIA | LY2BTA |
| LZ - BULGARIA | LZ2K |
| OA - PERU | 4T750 |
| OD - LEBANON | OD5/OK1MU |
| OE - AUSTRIA | OE8HIK |
| OH - FINLAND | OH2BGD |
| OH0 - ALAND ISLAND | OH0Z |
| OH0M - MARKET REEF | OJ0/LA6YEA |
| OK,OL - CZECH REPUBLIC | OK1FDY |
| OM - SLOVAK REPUBLIC | OM0WR |
| ON - BELGIUM | ON4BCM |
| OX - GREENLAND | OX3XR |
| OY - FAROE ISLANDS | OY/DL3QQ |
| OZ - DENMARK | OZ3SK |
| P4 - ARUBA | P40TA |
| PA - NETHERLANDS | PA3FQA |
| PJ2 - CURAÇAO | PJ2/K2NV |
| PJ2,9 - NETH. ANTILLES (deleted entity) | PJ4B |
| PJ4 - BONAIRE | PJ4B |
| PJ6 - SABA & ST. EUSTATIUS | PJ6A |
| PJ7 - SINT MAARTEN | PJ7E |
| PJ7,PJ8 - SINT MAARTEN (deleted entity) | PJ5NA |
| PY - BRAZIL | PY2PA |
| PY0F - FERNANDO DE NORONHA | ZX0F |
| PY0T - TRINDADE & MARTIM VAZ ISLANDS | PW0T |
| PZ - SURINAME | PZ5RA |
| R1FJL - FRANZ JOSEF LAND | RI1FJ |
| R1M - MALYJ VYSOTSKIJ ISLAND | R1MVZ |
| S0 - WESTERN SAHARA | S05X |
| S5 - SLOVENIA | S51NM |
| S7 - SEYCHELLES | S79GM |
| S9 - SAO TOME & PRINCIPE | S9MX |
| SM - SWEDEN | SM3CBR |
| SP - POLAND | SP3NX |
| ST - SUDAN | ST0RY |
| SU - EGYPT | SU9HP |
| SV - GREECE | J48QEI |
| SV/A - MOUNT ATHOS | SV2ASP/A |
| SV5 - DODECANESE | SV5/DJ7RJ |
| SV9 - CRETE | SV9/DL5DSM |
| T5 - SOMALIA | 6O0CW |
| T7 - SAN MARINO | T77C |
| T9 - BOSNIA-HERZEGOVINA | T94YT |
| TA - TURKEY | TA3J |
| TF - ICELAND | TF8GX |
| TG - GUATEMALA | TG9NX |
| TI - COSTA RICA | TI8CBT |
| TI9 - COCOS ISLAND | TI9KK |
| TJ - CAMEROON | TJ9PF |
| TK - CORSICA | TK/DL4RDJ |
| TR - GABON | TR8CA |
| TT - CHAD | TT8AMO |
| TY - BENIN | TY5MR |
| TZ - MALI | TZ6MF |
| UA - EUROPEAN RUSSIA | RA3YA |
| UA2 - KALININGRAD | RW2F |
| UA9,UA0 - ASIATIC RUSSIA | UA9CBO |
| UJ - UZBEKISTAN | UK8DAN |
| UN - KAZAKHSTAN | UN7AM |
| UT - UKRAINE | UT7UW |
| V2 - ANTIGUA & BARBUDA | V26WB |
| V3 - BELIZE | V31YN |
| V4 - SAINT KITTS & NEVIS | V47KP |
| V5 - NAMIBIA | V5/SP7VC |
| VE - CANADA | VE1ZZ |
| VK - AUSTRALIA | VK6HD |
| VK9W - WILLIS ISLAND | VK9DWX |
| VP2E - ANGUILLA | VP2E |
| VP2M - MONTSERRAT | VP2MPA |
| VP2V - BRITISH VIRGIN ISLAND | VP2V/DL7DF |
| VP5 - TURKS & CAICOS ISLANDS | VP5/G4RCG |
| VP6 - DUCIE ISLAND | VP6DX |
| VP8/so - SOUTH ORKNEY | VP8ORK |
| VP9 - BERMUDA | VP9/W6PH |
| VQ9 - CHAGOS ISLAND | VQ9LA |
| VR - HONG KONG | VR2MY |
| VU - INDIA | VU2WAP |
| VU7 - LAKSHADWEEP ISLANDS | VU7LD |
| XE - MEXICO | XE1KK |
| XF4 - REVILLAGIGEDO | XF4DL |
| XT - BURKINA FASO | XT2OW |
| XU - CAMBODIA | XU7ACB |
| YA - AFGHANISTAN | YA5T |
| YB - INDONESIA | YB5/9V1GO |
| YI - IRAQ | YI9ZF |
| YK - SYRIA | YK1AO |
| YL - LATVIA | YL2GUV |
| YN - NICARAGUA | H7DX |
| YO - ROMANIA | YO5BRZ |
| YS - EL SALVADOR | YS1RR |
| YU - SERBIA | YU1RA |
| YV - VENEZUELA | YV1DIG |
| YV0 - AVES ISLAND | YW0DX |
| Z2 - ZIMBABWE | Z21BB |
| Z3 - MACEDONIA | Z32AU |
| ZA - ALBANIA | ZA/S57AW |
| ZB2 - GIBRALTAR | ZB2FK |
| ZC4 - U K BASES ON CYPRUS | ZC4DW |
| ZD7 - SAINT HELENA | ZD7K |
| ZD8 - ASCENSION ISLAND | ZD8Z |
| ZD9 - TRISTAN DA CUNHA & GOUGH | ZD9T |
| ZF - CAYMAN ISLANDS | ZF2NN |
| ZL - NEW ZEALAND | ZL1HY |
| ZL8 - KERMADEC | ZL8X |
| ZP - PARAGUAY | ZP6CW |
| ZS - REPUBLIC OF SOUTH AFRICA | ZS6UT |
See you in TopBand, José CT1EEB