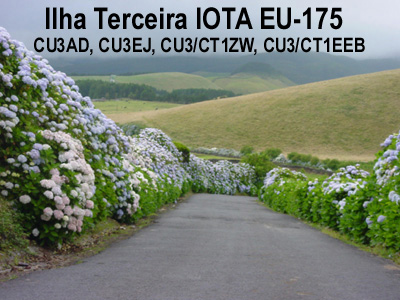 Year 2000 wasn't only a point of turn in the Millenium and the begin of a new Century but also the year I returned from East-Timor and tried to get my life back to its normal western standards, I wasn't really forseen any close DX'pedition that I could join and indeed the huge and crazy 4W6EB pile-ups were still in my mind. A couple of years earlier I remembered changing some ideas with Roger Balister G3KMA on how unfare was to have only 2 IOTA Groups in the Azores and that for Historic reasons there should be at least 3, we had a long talk at it in a IOTA Convention in Alicante and 5 of us (CU3EJ, CT1CJJ, CT1ZW, CT1EEN and me) gave Roger all material required to backup what we thought was right.
The IOTA Committee produced no feedback and life continued as usual.
Early in June 2000 I was kind of getting used to my quiet job at school-teaching when Julio CT1ZW phoned me enquiring if I had received the new IOTA Directory and I HAD NOT, it looked like, for my surprise, that an unnumbered group from the Azores had been introduced, the Central Group, our efforts were rewarded at last (Thanks Roger and Martin)! Half an hour later the phone ringed again, Julio CT1ZW was back and saying that Leonel CU3EJ invited us to go to "Ilha Terceira" in the Central Group for the first transmitions ever with the new IOTA reference, he also mentioned that he had booked us both in the next day flight to the Islands.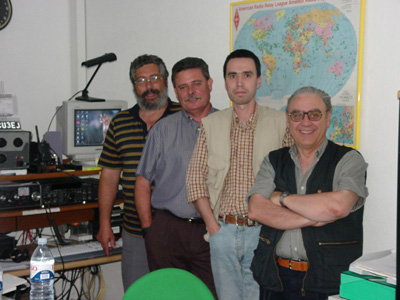 At the speed of light I found myself back in the Dx'pedition trail again, Hi !
Photos show Leonel CU3EJ making the first QSO from the new group with Roger G3KMA (getting EU-175 as a ref. for the Central Group) and the Team (L to R): Leonel CU3EJ, Orlando CU3AD, José CU3/CT1EEB and Júlio CU3/CT1ZW.
All in all we made over 4000 QSOs for a start and learned much about this beautiful Island and the great people that live there.
Our gratitude goes to Leonel CU3EJ and Orlando CU3AD for the invitation and hospitality, to Angraflor, the Azores DX Group and the Northern Portugal DX Group for sponsoring this operation.
The Central Group of the Azores - Part II
The first trip to Terceira Island in June got me curious about what the other Islands looked like, I had some holidays coming to me in the end of July and so I headed back to Central Atlantic.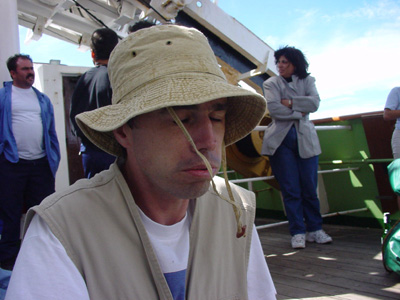 To begin with I have to say that there are several ways to travel between islands, nevertheless I got the hardest way! I was never a great sailor and often I get seasick (I made my Mil. service in the AirForce not in the Navy, Hi!) but when I saw the "Lady of Mann" docked in the harbour I tought it was quite impossible to get seasick in such a big Ferryboat... Photo shows I was wrong and I felt really bad in the first 3 hours of highsea, I really hate boats !!!
Anyway, radiowise I was ready and got my DX'pedition pack complete with a Kenwood TS-50, 1 Delta-loop for 17m. and a 15m. Dipole, Leonel CU3EJ kindly borrowed me one of his power-supplies.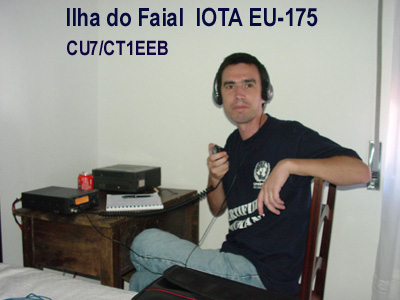 After a couple stops in Graciosa and S.Jorge I finally arrived in my first radio spot, the Island of Faial. Upon arrival Altino CU7AA (the well known Faial DXer) got us to our Hotel and kindly provided for the instalation of the antennas in the roof, in a few hours CU7/CT1EEB was in-the-air.
In between the Hotel Radio-shack and Altino's station over 700 QSO's were made in 2 days, Faial is a very nice place and the stay went very smooth, good food and good life to forget the seasickness!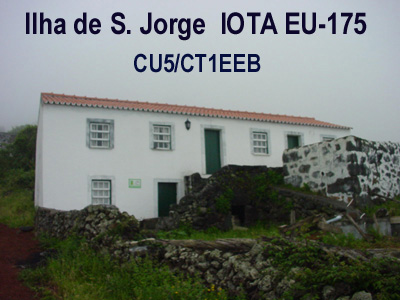 From Faial we departed to St. Jorge Island. In the distance St.Jorge looks very much like a large tall mountain rising from the Atlantic, from our first experience there we knew that staying in one of the guest-houses in the capital "Velas" wasn't a good idea, kind of hard to get the antennas up ! So I convinced my wife that we could rent a house in the top of the hill...! Once again proved a CT1EEB bad plan, up in the Islands top theres a kind of a eternal Fog, the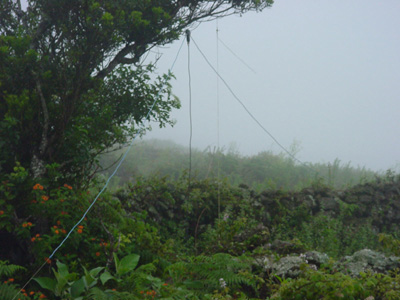 house itself had no Electrical power, nevertheless we had a small 750 watt generator (barelly enough for the radio), no fuel stations around (I had actually asked the guy that rented us the place if he could provide a spare can of petrol, he said OK, but he never showed up !), no suitable trees around to hang the antennas, only rock and cows.
CU5/CT1EEB got in the air, saving all generator petrol for the radio and logging with an oldtimers petrol light, the generator worked for 5 hours and then QRT, NO radio, NO light, only a spooky darkness and the sound of crazy cows again !
Next day, in what seemed to be the Island tradition, the Taxi we had arranged to pick us up and drive us back to the boat didn't show up, so, 2 persons and a dog hitchhicked all the way down to the harbour just in time to catch the boat.
The stay in "Casa da Serroa" was a experience to forget, not suitable for HAMs.
It was time to head back to Terceira and skip the activity from Graciosa, me and my wife CT1YRV were already feeling too tired for a holiday, Hi ! (so I thought at the time).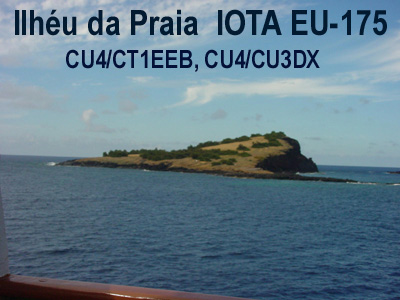 But the story was not over, Leonel CU3EJ was surprised we got back to Terceira earlier than expected, he had planned a DX'pedition to "Ilhéu da Praia" in CU4-land for early next morning, a surprise party !
"Ilhéu da Praia" is somewhat 3 hours away from Terceira in a fast boat, all OK as fast boats cut the waves in a fashionable way but unfortunatelly when engine breaks in between two Islands the boat starts rolling again and seasickness returns... the great feeling is back !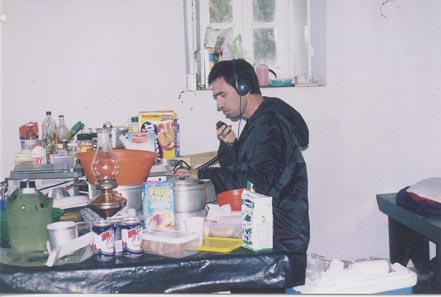 Anyhow what starts this way can only end in success, we did get to the Islet to find the only two permanent citizens of Praia, two very young Biologist girls (a Portuguese and a Scottish) that were living there for the past 3 months. Not used to see many "Humans" but used to birds they did fix my seasick feeling with a nice tea. They were actually happy to see us and allowed us to setup the station in the local kitchen (see the photo), antennas setup was OK as far as we didn't bouder the matting birds.
A very large number of QSO's was made, not without the curiosity of the Biologists wondering what we were doing there at all, what all those 59's meant and what licensing was all about. We took the chance to repair some of their broken gear and who knows giving a serious contribution to a future "Nobel Prize".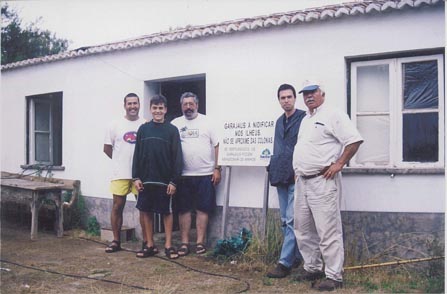 The CU4 Ilhéu da Praia Team
(The girls were happy to photograph the Humans for a change after 3 months of looking at birds)