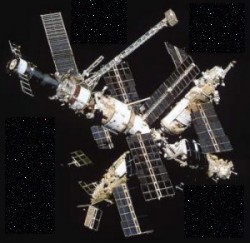 See sats in the sky
by CT1EAT

Did you ever saw an artificial satellite with a naked eye???
If the reply is no, read the following lines and you see how easy it is.

Visit this site.
Select your location from the data base.
Choose ISS (International Space Station), because larger objects are easy to observe.
In reply you will get a list of the next days visible pass's (if avaliable).
Print the listing. It contains, beside other informations, the start and finish time of each pass, what is associated to a cardinal point, to make it easier to determine the trajectory.
Make sure your watch is accurate, up to seconds!
To avoid forgeting, use the alarm-clock to alert you a couple minutes before the beggining of each pass.
Choose a place with good visibility, preferable without any effect of artificial light.
Locate the cardinal points (with a compass, if necessary).
Imagine the trajectory the object will describe.
A couple minutes before the predicted time, look steady to the area where the object will become visible.
This phase is important to the human eye get used to darkness.
Search for a constant moving dot (drawing an arch), that doesn't shine (like a star or a planet), and don't blink (like an airplane).
After see it, follow it until it fades. I bet that will impress you!
Of course, if instead of clear sky there is a cloudy ceiling, you'll have to wait for better days.

---
Back to main page