CT1EAT's new Shack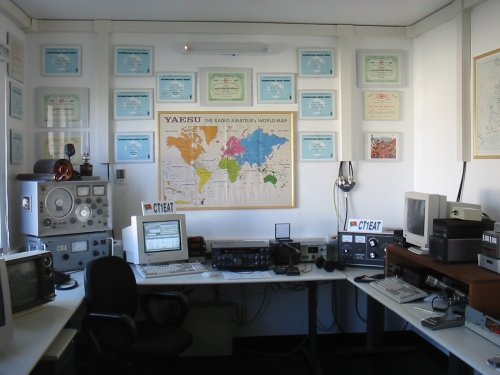 This is my new station.
During more than a decade I imagined the station I would like to have, and resign to operate the one I had.
Now, after many years, the dream become true.
On August 2001 I moved to a new house. Although it's not perfect, it's the most close I could aford :o)
Since then, step by step, with the help of good friends, CT1EAT's new radio station has been built.
This page is a tribute to all who helped me on this project, specially to:

António Faustino

Alexandre, CT1GVN

Zé Eduardo, CT2GQN

João, CT1EPC

Quim, CT2GWY

Nelsom, CT2GWZ
Rui, CT1EIF

To all my sincere Thanks.
---
Actual Station.
Location: Baleizão, IM68da

As July 2004, this is the station setup:

Equipment:
HF (10 to 160m)
Tx/Rx: Kenwood TS-950SDX
Amplifier: Ameritron AL1200X
Antennas:

10-40m: Force 12 C4XL

80m: Half Sloper

160m: 1/4 wave inverted L


VHF (6 and 2m)
Tx/Rx: Yaesu FT-847
Antennas:

6m: Tonna 5 elem. pol. H

2m: Tonna 17 elem. pol. H


SAT
Tx/Rx: Kenwood TS-790
Antennas:

144 MHz: Hy-Gain 218 SAT

435 MHz: Eagle 11+11 elem yagi RHCP

1.2 GHz: Tonna 35 elem H pol.

2.4 GHz: 1.2m dish, main focus
Feed: helix
Downconverter: Keps 13LNC2-PH


Rotator: Yaesu G-5400B


Packet
Tx/Rx: Kenwood TM-231E 145MHz FM 5W
Antenna: Telex Hy-gain GPG-2B 5/8 GP
TNC: Kantronics KPC2/TNC plus
PC: Pentium 133MHz


ATV
Rx: SAT Tv receiver
Tx: Graff 13S96-1 (1250-1300 MHz 500 mW)
Amp: Prinz MT 1,3E 20W
Antenna: Tonna 35 elem H pol.

Operation Modes:
HF:


SSB
RTTY
FM (10m)
PSK31
SSTV

V/U/SHF:


SSB
RTTY
FM
PSK31
SSTV
ATV
Packet 1200/9600/38.400bd
Satelite's (AO-7, UO-22 FO-29)
Software:
Log: DX4WIN 5.03
RTTY/SSTV/PSK: MixW 2.09, MMTTY 1.62, MMSSTV 1.07
Sat Tracking: InstantTrack 1.54

Back to main page