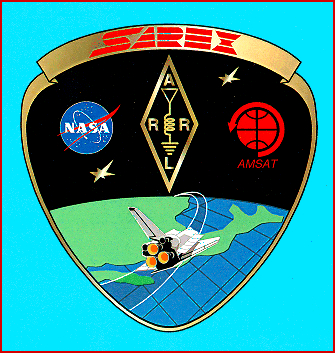 CT1EAT's SAREX web page
"HAM IN SPACE?
Starting in 1980, the manned space shuttle flights will begin. We should start effords now to get an amateur radio operator and station on one of the these flights."
Nickolaus E. Leggett, WB9NJH/3
in QST, November 1974

SAREX - Shuttle Amateur Radio EXperiment
The first time I ever heard about SAREX was during the 1ºTechSat, sponsored by AMSAT-PO, in Santarém, on 06-Dec-1992.
José Manuel, CT1BRM, made a presentation about the subject, including a couple videos showing several aspects of ham radio on board the Space Shuttle. I was fascinated! I decided, since that moment, my target (as ham radio was concern) was to do a radio contact with an astronaut.
So I start paying more attention to NASA space program, with special interest on manned missions.
The Internet wasn't yet widely avaliable, so the best source of information was packet BBS's, beside the media (radio, television and newspapers). Due that, achieve the first contact was a long process, mainly because the information wasn't accurate and updated. Not to mention the most important factor: luck!
So, althought I actively tracked all missions since STS-56, I only did the first QSO with STS-58. It was just a computer contact (packet-radio), and lasted 7 short seconds. But it was a prize to my persistence, of many nights without sleep!
After that contact, two more followed on the same mode, and only September 1994, with STS-64, I achived my goal. The chat with the astronaut Susan Helms was a dream come true. It was absolutly unbelivable.
Of course, once reached the goal, I could stop. But no! After that, the aim was to contact all missions I could. And thanks to personal pawning and determination (and also some luck), I've obtained significantive results, particulary for a station located in Europe.
This is the summary of my activity:

Missions tracked: 19 (STS-55, 56, 57, 58, 59, 60, 63, 64, 65, 67, 70, 71, 72, 76, 78, 79, 83, 93 e 94. I only missed STS-74, because profissional reasons, I was out of QTH for a full week.)

Missions worked: 12
Voice: 2 (STS-64 e 79)

Packet (complete QSO): 5 (STS-58, 59, 60, 67 e 70)

Packet (incomplete QSO): 4 (STS-65, 78, 93 e 94)

Packet digipeat: 1 (STS-72 SPRE)
For a full chronologic view of all this program, have a look at my all SAREX missions page. There you can have more details, including the files of my QSO's and my QSL colection.
If you want to know the CT's SAREX "honor roll", see this page.
Beside my page, there are more about SAREX. I recommend these:
---
Back to main page