CN8HB's Spectrum Display (2.02.1)
---
This program displays the Audio Spectrum of any signal applied to the line input of the Audio Card.
Main Display in PSK31 mode

Features :

Display of Audio Spectrum
of the line input.
Color indication of Mark/Space
3 Markers user adjustable
6 Marker presets for common
digital modes
5 display styles
Marker Tracking of the CW pitch with CAT-1000-MP
---
RTTY 2125 / 2295 Hz Display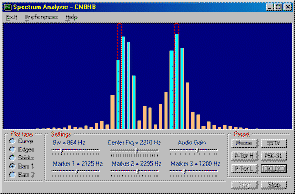 Pactor 2 Display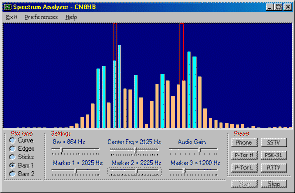 ---
Credits :
The design of this program has been made possible thanks to the release of the code of ctSpectrum Analyzer v2.0 by Murphy McCauley.
It is the Visual Basic source for a simple audio spectrum analyzer... reads data from the soundcard's input, FFTs it, and displays it.
A compiled version of this application is available on http://www.constantthought.com
Murphy can be reached at MMcCauley@FullSpectrum.Com (Put "[ct]" in Subject)
---
Download HBSpectro.zip (14.6 Ko) (Version 2.02.1)
Download ctSpectrum Analyzer v2.0 Murphy's Readme file (1.6 Ko)
If you cannot start the program,you will need the VB6 runtimes
for this to work. You may Download VBRUN60.EXE (1.05 Mo)
Please report bugs and your suggestions to cn8hb@email.com
---
CN8HB's Website has been visited
times since 20 August 2003
Last Update : 21 août 2003