Central Kansas Amateur Radio Club
Affiliated with the American Radio Relay League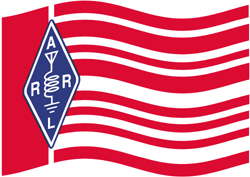 A hearty thank you to all of you who came to the 2005 ARRL Kansas State Convention. We had just over 300 people there and 5 commercial vendors. A whole bunch of flea market tables were also occupied.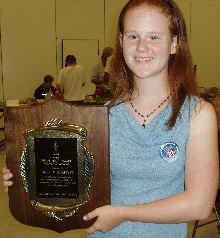 Congratulations to Rebecca Rich KBØVVT who received the Hiram Percy Maxim award at the convention.
Mark October 22nd on your calendar. Saturday at 8:00 AM. 3011 George Washington Blvd. Wichita. There will be an Amateur Radio Tail Gater. This will be in the DAV parking lot and is sponsored by the WARC.
Welcome to the Central Kansas Amateur Radio Club's Web Site. Feel Free to browse around. Be sure to check out QSP, the club's monthly newsletter.
Check out Sid's web site at: http://www.qsl.net/n0obm/
---
Our Mission
To serve the Public Interest, convenience, and Necessity. and to be there when needed, in times of local, state, or national emergency.
To Promote the enjoyment of Ham Radio by providing an environment which will enhance the opportunities for individual growth in the hobby.
---
Club Profile
The CKARC, a group of dedicated Amateur Radio Operators, located in Salina Kansas has been in operation for over 50 years.
We have been affiliated with the American Radio League (ARRL) for as long as anyone can remember.
Several of our members are presently active in Emergency Communications, by way of the Amateur Radio Emergency Service. (ARES) We have an active Storm Spotter group who works in conjunction with the Saline County Emergency Preparedness Office. Other members are active in trying to contact as many foreign Amateur Radio Stations as they can. Several are involved in contacting station around the world via several of the Amateur Radio satellites that are currently orbiting the earth. There are too many facets to Amateur Radio to describe on this site.
For more information about amateur radio, go to the ARRL web site: www.arrl.org
The club has sponsored the ARRL Kansas State convention at the Salina Bi-Centennial Center for the past 6 years. This year it was held on August 21, 2005. See the State Convention link for information.
---
Contact Information
Postal address

Central Kansas Amateur Radio Club, Inc.
P O Box 2493

Salina KS 67402-2493

Electronic mail

General Information: rtremblay@cox.net
Webmaster: rtremblay@cox.net