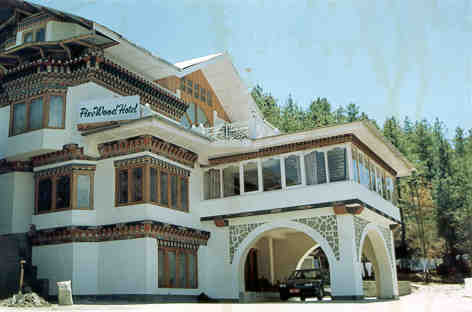 Thimphu, the capital, lies in a beautiful, wooded valley, sprawling up a hillside on the bank of the Thimphu Chhu (river.) This is the only world capital without traffic lights. One was installed several years ago but residents complained about its impersonalness and it was removed within days. Despite recent development, Thimphu retains its charm and is awash with brightly painted, elaborately decorated facades which give the town a captivating, medieval feel.
Thimphu is a cornucopia of Bhutanese culture brimming with things to see and do. Dominating the horizon, on a hill just above the town, the imposing Trashi Chhoe Dzong (fortress of the Glorious Religion) was completely renovated in the 1960s to become the symbol of the capital. It now houses the offices of the king and the central monk body. There is a School of Arts & Crafts below the dzong. The school teaches traditional skills to talented children from throughout Bhutan, and a small shop sells some of the students' stunning works at reasonable prices.
The most visible religious structure is the Memorial Chorten, containing numerous sacred religious paintings and tantric statues. For many, this is the focus of their daily worship and people circumnambulate the chorten throughout the day. The Weekend Market, in the centre of Thimphu, is an ideal spot to experience an urban and rural blend as villagers jostle with well-heeled Thimphu residents for the best bargains. Nearby, the Changlimithang Stadium is the national archery ground where you can see competitors participating in the kingdom's national sport, complete with traditional garb, colourful behaviour and entertaining rituals. The National Institute of Traditional Medicine is an interesting facility which uses over 300 different plants to make medicines distributed throughout the kingdom.
---
This page designed and maintained by N1DG.
Last updated 2 April 2000