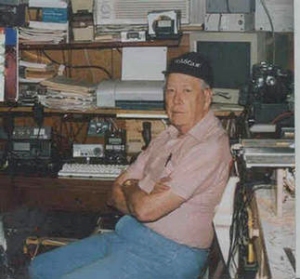 This week we spotlight Frank Barnes, WA5FB. Frank, who holds an Amateur Extra Class license, was first licensed in 1966 as WA5GDF. He joined ARMS as an associate member in 2007.
The WA5FB station consists of an Icom IC-718 transceiver and an inverted vee antenna for HF. For VHF Frank uses an Icom IC-229H transceiver with a ground plane antenna. His main interests are CW, checking into nets and handling traffic.
Frank spent twenty-four years in the United States Air Force as a radio intercept operator. He then worked as a special education teacher for twenty more years.
Frank has been a member of Bay Vista Baptist Church in Biloxi, Mississippi, since 1966. He was ordained a deacon in 1969 and has served as minister of music. He still assists as an interim music director for smaller churches. He is also active in judging Bible drills for the Mississippi State Convention.
In 1952 Frank married Elsie, whom he describes as "patient". They have two daughters and a son, 53, 48, and 41 years old respectively. They also have four grandchildren.
Participating in Christian Amateur Radio nets is a blessing to Frank. In addition to the ARMS Christian Fellowship Net, he enjoys the Mississippi Baptist Fellowship Net at 2 p.m. Sundays on 7.260 MHz.
Frank's favorite Bible verse is Romans 8:28: "And we know that all things work together for good to them that love God, to them who are the called according to his purpose."
Welcome to ARMS, Frank.
[ POSTED ON 04-AUGUST-2007 ]