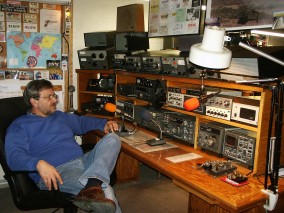 This week our ARMS spotlight is on Joe Dozpat, WA3UVP, of Danville, Pennsylvania. Joe is a General Class licensee and was first licensed in 1971. He joined ARMS in 2003 and currently serves as a net control station for the ARMS Eastern Region Section Net.
Joe enjoys HF rag chewing, particularly on 40 and 75 meters. When the bands are open, he also likes working 10-meter AM and DXing on 12 and 17 meters. Another side hobby is restoring antique test equipment and his Drake Line Twins.
As you can see from his picture, Joe has several vintage rigs. His primary stations for 75 meters is a Yaesu FT-101Z with complete station accessories. For 10, 15, and 20 meters he uses a Ten-Tec Paragon, for 12 and 17 meters a Kenwood TS-450S, and for 40 meters a Ten-Tec Argosy 525D. Also on the bench are his Drake Twins, the T-4XC and R-4C complete with all station accessories.
Joe also enjoys working on boat anchors for his AM station on 10, 40, and 75 meters. His AM station includes the Heathkit Twins, the TX-1 Apache transmitter and RX-1 Mohawk receiver, as well as a Hallicrafter HT-37 transmitter and Hallicrafter SX-101A Mark III receiver. He collects vintage receivers.
Professionally, Joe was President and CEO of his own calibration and repair company, Spectrum Technologies, in Elysburg, Pennsylvania. Prior to starting the business in 1986, he worked for Hewlett Packard Medical Products group and served as a field service engineer from 1980 to 1986.
Joe and his bride, Cindy, have been married for thirty-eight years. They have two children: their son Kevin (KB3ENW) and their daughter Kristin. Both are married and have their own families. Joe and Cindy are the proud grandparents of five grandchildren. Recently, they moved back to their home Christian and Missionary Alliance church after spending seven years at the Rush Baptist Church where Joe served as a deacon for five years.
Thanks to Cindy and a close friend and elder, Joe gave his life to Christ in January of 1985. He has a great testimony in his QRZ.com bio. "I'm a born again believer, who knows and loves the Lord Jesus Christ as my personal savior and I try to use Amateur Radio to further the witness of God's Kingdom. In addition to Ham Radio, I have many other hobbies and interests, one of which is my ministry to the drag racing community through Team G.M. Racing Ministries."
Philippians 4:13 is Joe's favorite verse of Scripture. "I can do all things through Christ which strengtheneth me."
Check out Joe's Amateur Radio Web site at wa3uvp.homestead.com
[ POSTED ON 25-MAR-2006; 04-MAY-2007 ]