This weeks ARMS member spotlight is on Lew Orcutt N0CXY of Carroll, Iowa who just joined the network last week although has been checking in the net for about 3 years now. I always meant to join but just did not get around to it. Then when they honored me with being the web master for the site I figured it was time I should join and I have done that. Some times I am just rather slow.
Going Mobile
Hello, This is N0CXY from western Iowa In America's Beautiful Heartland. Very early in Cub scouts my interest was sparked for radios with the building of a crystal radio for one of my badges. By the time I was 11 or 12 years old I was totally fascinated with electrical stuff and one day when I hauled some old junk to our garbage pit on the farm I found an old AM radio that was all broken and the power cord was gone. I took it home and removed all the broken cabinet as it was one of those plastic ones of those days. After some glue on a torn speaker, replacing a tube, cleaning all the junk and dirt out of it, and putting a power cord on it that I cut off and old lamp I plugged it in and it all lit up but got no stations. After some fiddling I discovered that a piece of cardboard with some wire wrapped on it was necessary to hear radio stations. Walla I discovered antenna's and there great importance to the operation of radios. WOW I used that radio for some years as I was so proud and the electronic career was born. The antenna I use while mobile is the Swantenna fully adjustable for all bands and it does a really nice job with my Swan 350D.

My Fixed Antennas are the Cushcraft R7 Vertical and a wire dipole that droops off the tower just under the vertical and is headed in a North South direction. With more droop it would be an inverted V and it seems to perform better than the Vertical. Maybe it is a lazy inverted V. But I digress so back to where I was before the current antenna pics etc. I did an old TV set from the neighbors, built a heathkit transistor FM radio kit and various other stuff and after graduation from High school I decided to enlist in the Air Force in electronics Early Warning Radar to learn how it all worked. After the schooling and at my first assignment in 1963 I managed to pass the code and test for the ham ticket and received my first call.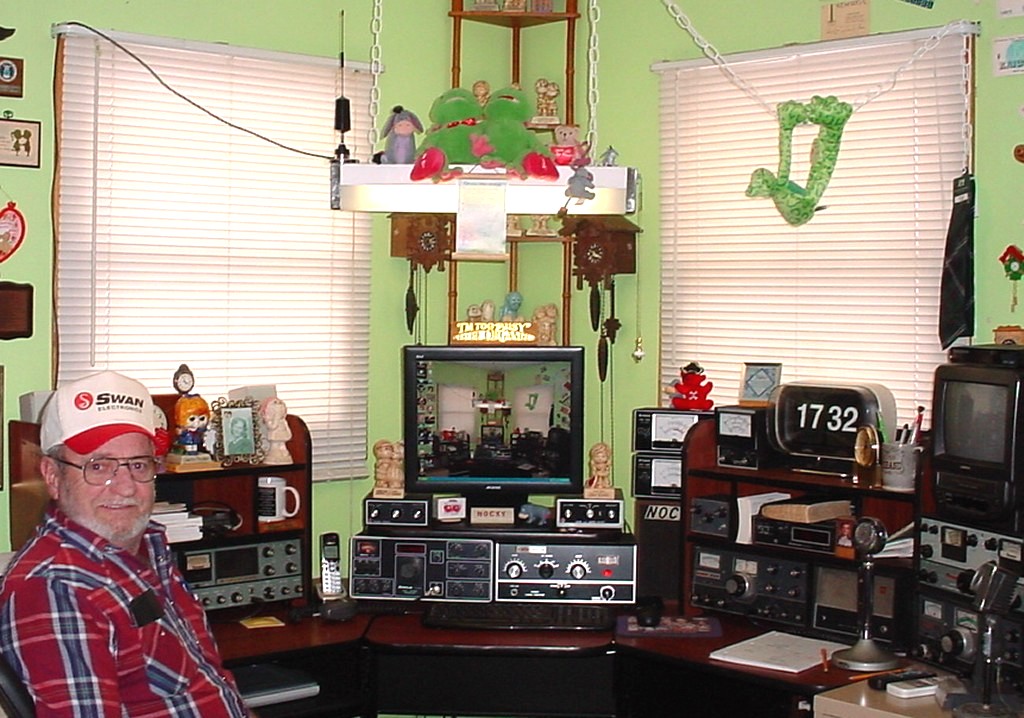 My license is a General class and I was never very good at Code and was to slow to get much out of it. Today I could not even do the code unless I practiced a long time. My first interest was HF and still is and for many years before I received my Ham ticket I was and avid SWL with and old wooden Philco radio early 50's I believe that was about 3 feet long 1 1/2 foot high and about that width. I fell asleep many nights with that running. The antenna was a wire stung from my window out to several trees was was probably about 60 feet long. With that was the ground rod outside the window about 6 feet long connected to the radio also. It worked real well and listened to stations from all over the world. My favorite band is 20 and that is about all I operate. I have been a Licensed operator since 1964 and have had calls, WA0POG my first, AK1KB my Alaska Mars, WB7NKV from Washington and finally N0CXY the call I got after retiring from the Air Force in 1981. I still have the first commercial radio I purchased from WRL in 1964, a Swan 240, along with many other Swans purchased later on. I love the glow in the dark radios and if the glow is there I am on the air.

I also have a Swan 350, 350D, 400 and 500C along with the Swan accessories and meters etc. I got my ticket in Burns Oregon while stationed there and got the SW 240 there. It has been all over the world with me and has made many outstanding contacts.
I also am working on an old 1953 Rambler I am restoring as I had one of them when my wife and I had our first date. We got a second one after we were married and stationed at my first assignment in Burns Oregon and then when I seen this one several years ago I just had to have it. So Far much work but still a long ways to go.
Now that I am fully retired I have purchased and old 1954 Ford 640 tractor like dad had that I am restoring along with a hay rack that I am rebuilding and setting up for hayrides on birthdays and so forth. I have used it that way twice for two of the grandchildren and once for a Youth group to go around Christmas caroling and in several church parades. My wife, Mickey (Carol) and I have been married 55 years and we have 3 children, 11 grandchildren and 4 great grandchildren. My favorite ham band is 20 meters and I check in on the Swan nets around 14.258 Mhz at 2000 GMT daily, 14.250 Mhz at 2100 GMT on Sunday and 14.252 Mhz at 2300 GMT on Mondays.
Recently I found the ARMS Christian fellowship net on 14.3075 Mhz at 1500 GMT Every day except Sunday so I try to check in there also as often as I can. If you find yourself on 20 and hear my call drop on in and say Hi.
Updated 18 August 2017