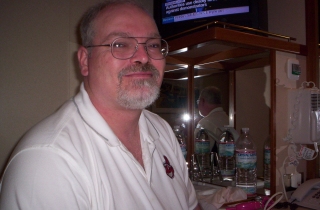 This week the Spotlight shines on ARMS member Tim Butler, KV4DP, from Tracy City, Tennessee. Tim was first licensed in 2000 and currently holds an Amateur Extra Class license. He joined ARMS in 2001.
The KV4DP station includes a Yaesu FT-920 transceiver and an Ameritron 811H amplifier. The antenna is a Carolina Windom. For mobiling, Tim uses a Yaesu FT-100D transceiver and Hamstick antennas for 20 and 80 meters.
Tim enjoys DXing and participating in Christian nets on the air. In addition to the ARMS 20-meter net, he enjoys the Spirit net on 3.905 at 0230 UTC, the Hams for Christ net on 7.2325 from 2130 to 2200 UTC, and the Bible Fellowship net on 3.875 from 1115 to 1145 UTC. Previously, he was the administrator and net control for the Maranatha net that ran on Saturdays on 14.327 and Sundays on 7.2325. The net was in operation from 2001 to 2005
Tim has been a truck driver for the past twenty years and a minister for the past seven years. His wife joined him on the road about eighteen months ago and they run team throughout the continental United States. He has been a minister with The Overcomer Ministry out of Walterboro, South Carolina. He left there in 2001 to began his own ministry called Remnants Hope Ministry. For the first five years, they broadcasted on shortwave radio and then moved to the Internet with a website and online radio station.
Tim has been married to Pearl for fourteen wonderful years. They have three children, which are Pearl's from a previous marriage but adopted by Tim: Matthew (25), Bernie (23), and a daughter, Lelah (21). Matt and Bernie are both married and have two sons each. Matt's sons are Wyatt, age 3, and Conner, age 1. Bernies sons are Jonathan, age 3, and David, age 1.
Proverbs 3:5-6 are Tim's favorite Bible verses: "Trust in the Lord with all thine heart; and lean not unto thine own understanding. In all thy ways acknowledge him, and he shall direct thy paths."
Tim says he appreciates all the work of the ARMS net control stations and wishes to say thanks for their faithfulness.
[ POSTED ON 10-SEPTEMBER-2007 ]