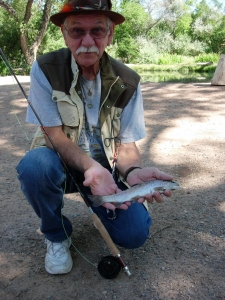 This month ARMS Spotlight is on Bob Grant, KD4HCR, from Albuquerque, New Mexico. Bob was first licensed in 1955. Previous call signs were WA1SMQ and WA1FVW, and currently hold and Amateur Extra Class license. He joined ARMS around in 2009.
Bob especially enjoys QRP and older rigs. His station includes an Icom IC 718 running at 10 watts, a Kenwood TS-700A for two-meter SSB, an Icom IC-471A, a Kenwood TS-660 for QRP, an Icom IC-37A, and a Kenwoods TM-261 for 2 meters FM. He enjoys working PSK31 QRP on 20 meters.
Captain Bob has been retired for two years after serving 21 years as a flyer in the United States Navy and 24 years moving ships overseas in the Merchant Marines. He is currently working on a robot to help save GI's overseas.
Bob is married to Peggy, his wife of 32 years. She is also a flyer and amateur radio operator. Her call sign is KD4LNO.
Welcome to ARMS, Bob.
[ POSTED ON 07-APR-2009 ]