Our spotlight this week is on ARMS member Kendall Guffey, K5DJU, from Imperial Beach, California, in San Diego County.
Kendall was licensed in 1996 as KF6DJU and holds an Amateur Extra Class license. He says he wanted to sneak in and get his ham license before his dad, Boyce (K5VSP), who is the Friday net control station on the 20-meter ARMS net. A couple of months after he received his Technician license, he sent all his study books to his dad, who was then licensed as KC5VSP. It turned out Boyce was in a bigger hurry than Kendall was. He studied his code and became a General before Kendall knew what was going on! Both are now Extra Class licensees and talk daily on the air. Both joined ARMS in 2006.
The K5DJU VHF station consists of an Icom IC-V8000 2-meter FM transceiver with an Astron SS-30M power supply. For HF there is an Icom IC-756PRO II and a Kenwood TS-530SP. For power, there is an Icom PW-1 amplifer and an Ameritron AL-811 amplifier. Accessories include a Bencher iambic paddle, an Icom SM-20 microphone, and a MFJ-962D Versa Tuner III. Kendall's antennas include a Hy-Gain vertical, a Cushcraft MA5B beam, and a 40-meter double bazooka. A Yaesu G-800SA rotates the beam. With this fine station he enjoys working CW, special event stations, and QSO parties.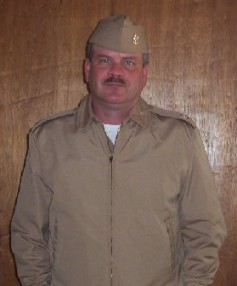 Kendall is in the United States Navy and has been active for over twenty years. He hopes to retire in a couple of years. He is currently stationed aboard the USS Dubuque(LPD-8). Previous ships were the USS MIDWAY(CV-41), the USS O'BRIEN(DD975), the USS PELELIU(LHA-5), and the USS MCKEE(AS-41) with a couple of shore tours in between.
Kendall has a daughter named Elisabeth. His parents are Boyce and Thelma Guffey of Cash, Arkansas. Kendall is thankful for the Christian home he grew up in and always enjoyed going to church and playing the guitar with his dad.
John 8:12 is Kendall's favorite Bible verse, where Jesus said, "I am the light of the world." Check out his Amateur Radio Web site at www.qsl.net/k5dju.
[ POSTED ON 11-APR-2006, 07-11-2007 ]