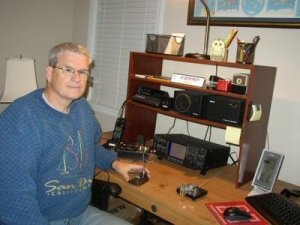 Our newest Spotlight is on Mike Eagen, KØRRP, from Fayetteville, North Carolina. Mike was first licensed in 1958 as KNØRRP and now holds an Advanced Class license. He has also held the call sign N5GNB.
Mike currently serves as editor of The Beam, the semi-annual ARMS newsletter. His main interest in amateur radio include CW, DXing, and nets, especially the ARMS nets. Mike says that after 50 years in Ham Radio, he finally worked 50 states for his Worked All States award.
The KØRRP station includes an Icom IC-756 for HF, an Alinco DR-635 for VHF/UHF, and a Carolina Windom dipole antenna up 45'. He uses the Rigblaster Pro for PSK31.
Mike joined ARMS in 1985. He first learned about it from Bill Bernsten, NWØG, and Jay Sudenga, KØGAZ, the same year. He knew Bill many years earlier when Bill was his choir director in Minneapolis. Mike later became a faculty member at Northwestern College and Bill became his boss. Mike managed the college's club station for several years and made a number of phone patches to missionaries and between students on short-term mission trips and their families in the States.
Professionally, is an organic chemist and earned his Ph.D. degree from the University of Nebraska. He split his career between industry and academia. Between school and job transfers, he has lived in eight states. He is now retired and says he is busier than ever.
Mike and his wife, Sharon, are members of Highland Presbyterian Church in Fayetteville, North Carolina, where he sings in the choir, participates in Sunday Bible classes, and does a number of practical services (such as Thanksgiving meals, cleaning streets, painting houses, and building small porches) for low income neighbors in Fayetteville.
Mike and Sharon have four grown children, including three daughters and one son. Three are married and have given them two grandsons. They live in Minnesota, Oregon, Nebraska, and Iceland and all live very interesting lives.
Mike's favorite Bible verses are Romans 8:38-39: "For I am convinced that neither death nor life, neither angels nor demons, neither the present nor the future, nor any powers, neither height nor depth, nor anything else in all creation, will be able to separate us from the love of God that is in Christ Jesus our Lord."
Mike writes, "I'm looking forward to the best days that await us in ARMS and to possibly seeing many members in person."
[ POSTED ON 21-NOV-2009 ]