Not Licensed?
Amateur Testing Page

Good DX Stuff
Grid Squares
AH6P Logbook on QRZ
Local Hawaii Sites
EARC (My Club)
KARC
BIARC
HWARS
PD ARRL
AH6RH
Oahu RACES
Digital
Packet Radio in Hawaii
PSK31 (Coming Soon)
Other Links
eHam.net
AC6V (Super Resource)
Weather and Such
Weather Page
Whew! Finally got around to updating my site. I've been extremely busy ever since the 11 Sep events. Work has been non-stop.
The biggest change is that I won't be managing the Oahu Section of the KH6 Bureau effective immediately. The bureau will still be operated by the EARC, but the management will be taken over by David Cabatu, AH7E. Please be patient with him as he gets up to speed on the bureau operations. If you need to contact him, email to [email protected].
It's also been awhile since I've held an amateur radio testing session. Well, if you need to upgrade, or if you don't even have a license yet then stop by the the Red Cross HQ at Diamond Head on 8 Jan 2002 from 6pm to 8pm. The EARC VE Testing Team will be testing all classes, written and CW.
---
I became a HAM Radio Operator in May 98 as KH7LD and a MARS Radio Operator in November 98 as AFA8YD. Upgraded to Tech Plus in March 99...upgraded to General in October 99...upgraded to Advanced in November 99...upgraded to Extra in December 99...and actually had fun doing it all.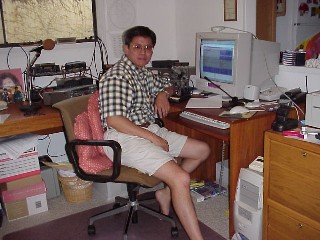 The final change came in April 2000 when I changed my call to AH6P. My HAM radio interests have quickly expanded to include a lot of involvement with my local club, the Emergency Amateur Radio Club, as well volunteering with the Oahu Civil Defense RACES Quick Response Team. Another area I'm interested in is packet radio. I currently have an amateur packet station operational 24 hours as well as an APRS station
---
Pile ups are fun, especially when you're the center of the pile up. Click here to find out the latest schedules for ARRL and CQWW contests.
---

Email Comments and Questions
---
---
---
How's Propagation?
QSL.net
hf Radio
Forecast
Space Wx
---
Where's the DX?
DX Monitor Software
DX Summit

---
---