AG4TN

Home Page

To advance to the general class, you need to pass the Morse Code test and another 35 question written test concerning more advanced aspects of amateur radio (but you still only have to answer 26 of those questions correctly.)

I recommend you practice some exams by visiting AA9PW's web site.

I also strongly recommend "The ARRL General Class License Manual" published by the ARRL. ARRL study guides are written in a manner to help you understand and pass the appropriate class of exam. Each book also includes the complete question pool so there won't be any surprise questions on your exam!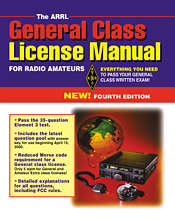 Free counters provided by Honesty.com.