AG4TN

Technican Class Information

To get started in amateur radio, you need only pass one 35 question test concerning the basics of amateur radio (and you only have to answer 26 of those questions correctly.)

For starters, visit the Amateur Radio Tutorials - Technician Class web site. This site will give you some information, probably enough to pass the exam without further study, especially if you have a background in radio and/or electronics.

Before taking your exam, I recommend you practice some exams by visiting AA9PW's web site. This web site creates practice exams from the actual question pool used by the ARRL Volunteer Examiners. After you have completed your exam, it will be graded and your score will be displayed, along with the correct answers for each question.

I also strongly recommend "Now You're Talking! All You Need ForYour FIRST Amateur Radio License" published by the ARRL. ARRL study guides are written in a manner to help you understand and pass the appropriate class of exam. Each book also includes the complete question pool so there won't be any surprise questions on your exam!
Recommended Reading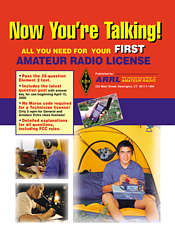 Free counters provided by Honesty.com.