NOGA members activate the Appalachian Trail for Georgia
Date: April 19, 2001
Place: Woody Gap, GA (AT crossing point about 20 miles north of Southern end of AT)
Results: Fantastic QRP outing with minimum effort
Here's the panoramic view of the Appalachian Trail's Woody Gap site. This is a view facing the SE. Jim Worthington AD4J and Sam Billingsley AE4GX decided on the spur of the moment to try out some antennas and rigs on the AT to give a few lucky folks that might be trying the East Pennsylvania QRP Club Appalachian Trail event a chance to catch Georgia. Georgia hosts the Southern end of the AT starting at Spencer Mountain about 20 miles SE of Woody Gap. Unfortunately you have to hike 8 miles to get to the Spencer Mountain starting point so we elected to drive the car to the nearest AT point that would cross one of the Georgia roads. Woody Gap beat out Neils Gap by a few miles so we headed out mid morning Thursday April 19, 2001 and got to the site about 1:00PM after stopping in Dalonega, GA for lunch. Hams have to eat. Right?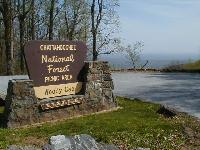 Woody Gap, GA (20 miles north of Southern Terminus)
We setup on a picnic table adjacent to a parking lot and fairly quickly setup three antennas:
A 100 foot long wire with 24 ft counterpoise. AE4GX used LDG QRP tuner and AD4J used K2's internal tuner
A 44ft Doublet with open wire feeders (at 30 ft) tuner ZM-2 and 25 ft coax to rig
AE4GX's Parking Lot Portable Vertical (on 20 mtrs) fed with about 50 ft of coax.
The rigs used were INDEX QRP+ and Elecraft K2
MFJ SWR Analyzer helped speed up tuning the doublet.
It got very warm in the afternoon and since we were sitting facing West we setup some makeshift canopy's to keep us more comfortable. It was sunny and at least 75's degrees F. Absolutely perfect day for being out of doors.
We got some of the "real" AT hikers to take our pictures. Jim is in foreground and Sam is in background with cap.
Jim AD4J and Sam AE4GX (North GA QRP club members)
Here's a better view of the gear. Sam is using a card table on top of a folding camp chair and Jim is using his operating table for cover.
Just in case you missed the last picture
To show you how close we were to the parking lot you see bellow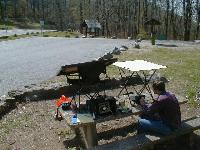 Very close to the parking lot
With the car close the setup was easy and we had "no hiking" required to be on the AT. Neat!
Almost no walking required. Very neat AT spot!
Well it's still not Spring in the mountains yet but you can see the many trees right behind us. They made putting up the antennas a snap.
Still not Spring in the GA mountains yet.
Well all the antennas performed well and we made contacts on all the antennas and rigs. We realized a few things to be done before the next outing to help organize and speed getting on the air. When you have limited operating time it's best to limit the options.
If trees are available or collapsible poles then the W3EDP type endfed longwire is the way to go. If you were backpacking a few pieces of wire and some string would keep things light , compact and simple. We recommend at least 20 ft if possible.
The PLPV is an easy method for a no tree or limited operation. It has been operated on all outings for the last several years and always is successful in getting QSOs. The Doublet is another good multi-band choice but you need at least one high point to get the center up to 25-30 ft. We had the elements slightly slanted down (15-20 degrees).
We saw a surprising number of AT hikers go by both north to south and south to north. One young couple (they took our pictures) were hoping to do the entire AT before Fall school. Of course, Woody Gap is about 20 miles from the Spencer as they had gone about 1/100th of the AT in two or three days. We wished them good luck in the adventure.
Woody Gap is about 70 miles north of Buckhead (Lenox Square) so it's relatively easy to get afternoon and early evening operating during the summer months. With a weekend schedule and QRP-L, QRP-F and ARS alerts in advance you should be able to attract a pileup or two during the afternoon.
==============================================================================
A group of NOGA members are planning a 3 day camping outing on May 11-13 at Hawk Mountain an AT point about 8 miles from the terminus. Hope to catch some of you there.
Sam AE4GX and Jim AD4J North Georgia QRP Club