The 2001 ARRL Southwestern Division Convention

The annual ARRL Southwestern Division Convention was held in Riverside CA on the weekend of September 7-9, 2001.
Here's some of what was there.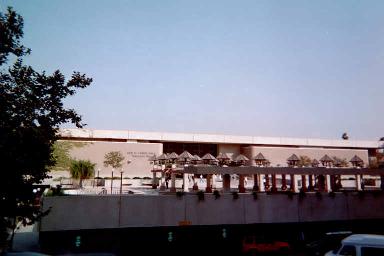 This is the place: the Riverside Convention Center in downtown Riverside, California.

Some of the friendly bunch greeting attendees at the check in area.

One of the many tech sessions either breaking up or about to begin.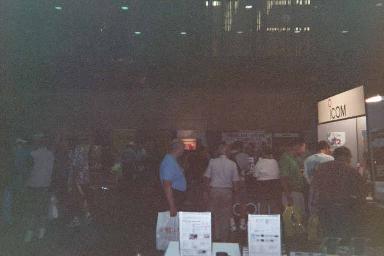 A look inside the main exhibitors' hall. Unfortunately it was too dark for my camera to pick up much, even using the flash.

Up there on the top floor of the Holiday Inn is a banner which says W1AW Special Event Station.


Another look at the hotel showing more of the antennas erected for the station.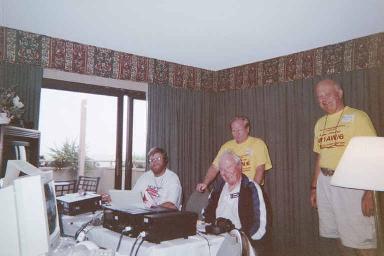 Inside the suite housing the W1AW/6 special event station. These guys are having fun on 20 Meters. The yellow shirts were available to those who operated W1AW/6 for the event. The guy on the far right is Fred Roberts, W6TKW. Read his report on the success of the station.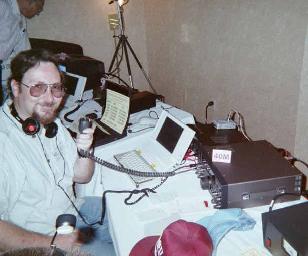 Here's Yours Truly, AD7DB, operating on the 40 Meter station and having a blast! Behind me is the ATV station which was very popular during the convention.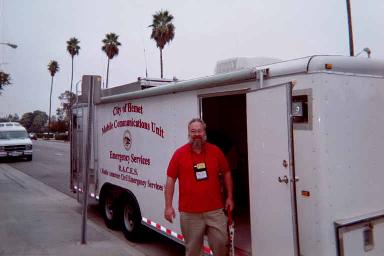 Here's John, N7JY, checking out the emergency communications trailer from the Hemet RACES.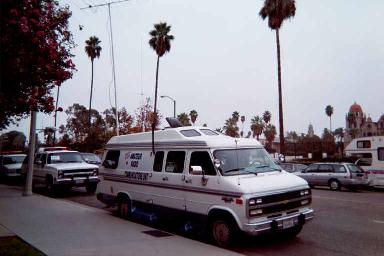 Just down the block was the communications van belonging to Gordon West, WB6NOA.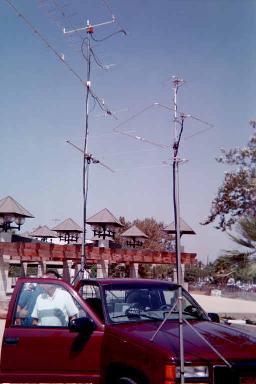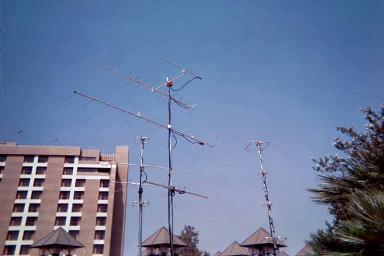 This is a rover vehicle containing a whole bunch of different VHF and UHF antennas and gear. It's street legal to drive it even when they're fully deployed.

A look inside the cab. Obviously, the driver does the driving and the guy riding shotgun mans most or all of the equipment.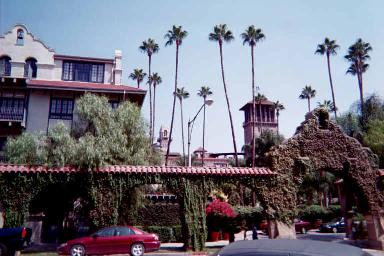 This is the historic Mission Inn, just a couple of blocks away.

See you at the 2002 convention in San Diego! (Escondido, actually, in northern San Diego County.)
Return to the AD7DB Main Page

---

This page and all photos here are Copyright © 2001-2002 David G. Bartholomew, AD7DB.

Disclaimer:
The contents of these pages do not necessarily reflect the opinions of my Internet provider, my page host (QSL.net), my employer, the people who put on the convention, the ARRL, the other convention attendees, nor anyone else on the planet. Or anywhere else. And if I left anyone out, them too.

Looks best using