A Review of the QST View CDROMs
by David Bartholomew, AD7DB
---
Like a lot of people, I like reading old ham magazines. Sometimes it's nostalgia, sometimes it's to see what hamming was like years ago (maybe before you were born). I enjoy both, and also like reading the technical articles.
Many articles don't fall out of date. Take homemade antennas, for instance. There were many designs published in the pages of QST over the years.
In 1996, the ARRL published their collections of old QST magazines on CDROM. The sets cost about $40 each. Some cover a whole decade or more, but later sets from the 1960's on cover 5 years per set, and less issues per set for the more recent years, mostly due to the sheer amount of printed material.
I became interested in these CDROMs because I used to have access to many old copies of QST. They were in the San Fernando City DCS station. During our weekly drills, we had time to sit around and chat with each other, and we'd often pull out and read some old ham magazine from the stacks. (Literally. There were several stacks of these magazines on a shelf.) These included many old issues of QST going back to the 1930's, none later than the mid 1970's. The stacks also included some old issues of Radio from the 1930's.
Of course many of the technical articles were out of date. You can't even get the tubes you'd need for some of those radio projects anymore. Still, I liked reading them each Monday night. (I'm not sure what became of those old magazines. I believe we eventually donated them to some other organization. I hope so, anyway.)
I decided to start out by ordering the QST View sets for the 1940's and 1950's since those were the most interesting of the old mags I used to look at. I figure I'll order some others later. Buying them slowly will let me absorb what I have first, and ease the strain on my checkbook.
The ARRL has a page about QST View updates and notes. They mentioned an update to the viewer, but as it turned out, my sets already had that version.
I checked them out on arrival. Each set consists of 4 CDROMs in a double-thick CD case, which also contains a small installation and instruction booklet. Installation on the first set (1940-49) was lightning fast. Installation on the second set (1950-59) took several minutes, much of that was waiting for it to merge and reindex its master list.
These sets consist of actual scanned magazine pages. They are on the CDs in TIF files. You can use Windows Explorer to look at them if you want. (I only speak here of the sets I have; I have read that other sets might use something different.) The scanning process didn't do justice to some of the old photographs which had been roto-scanned for printing in the first place. And despite the possibility for color pictures, there aren't any in the 1940s or 1950s sets. Maybe in some of the later ones?
The publisher provides a reasonable front-end program to access the CDs. It's got some quirks and shortcomings, but I think the CDROMs are way easier to search through than going through a thick stack of magazines.
Here are the fields you can use to search:
Article. The words "The" or "A" are thoughtfully moved to the right end, so you have somewhat of a chance of finding useful things. On the pull-down next to the box, it only indexes those entries beginning with a specified word. However, you can type in some term, such as "*hunt*" and get lots of hits on articles that contained that word (or portion thereof).
Column. This includes all their commonly appearing columns like Hints and Kinks, Technical Correspondence, Silent Keys, Strays, YL News and Views, The World Above 50 Mc., and many more.
Last Name. Especially useful when people have been known to have several callsigns over the years.
First Name.
Call Sign, as author and/or mentioned in the piece.
Year (number only, such as 1958).
Month (numbers from 1-12 only).
Good news: you can give multiple criteria, such as all of the Hints and Kinks in 1956. Bad news: those are the only fields you get to search. You can't search the actual article text. You can't search by general topic, such as "antennas" or "20 meters". You can try a keyword search, but on such terms above it's likely to find too much unless you can be more specific.

It doesn't seem to have any true Boolean searching, but you can get away with using the asterisk in various ways. The search is not case sensitive.
transmitter looks for an article simply titled "Transmitter". Nothing else. However, if you put that in and click on the pull-down button next to it, it will list those articles beginning with the word "transmitter".
transmitter* lists all articles beginning with that word. This is effectively what using the pull-down list does.
*transmitter lists articles where the last word is "transmitter".
*transmitter* lists articles where the word "transmitter" appears anywhere in the title.
*trans* lists articles where the letters "trans" appeared, which might include words like transmitter, transmatch, Caltrans, etc.
February cover lists what February cover pages you have. In this case it's looking for only those two words as the whole title.
Feb*cover same thing, but it's looking for any article beginning with the letters "Feb" and followed by the word "cover", which would also be the final word since it has no trailing asterisk. In this case all it's likely to find is the cover picture anyway. (Also notice that no space is needed after the first asterisk.)
cover february won't find the February cover, because the phrase is in the wrong word order.
*cover*february* is looking for two words in sequence starting with "cover" followed later by "february", but will not find "February Cover".
*20 meter* brought up 5 results containing "20 meter".
*20-meter* brought up 7 other results containing "20-meter", which were different articles from those the previous search found. So be sure to try it both ways, or try it this way:
*20*meter* brought up a list which included phrases like "20 and 40 Meters" and "20/40 meters". Notice that the word "meter" didn't have to be the very next word after "20".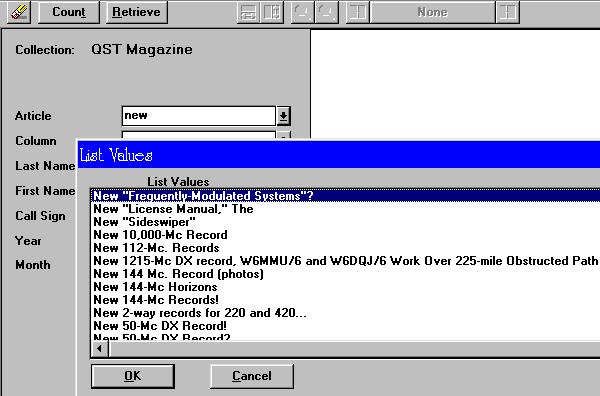 This is from putting the word "new" into the Article field and then using the pull-down list to see those articles beginning with "new". It doesn't give the author's name or other information here.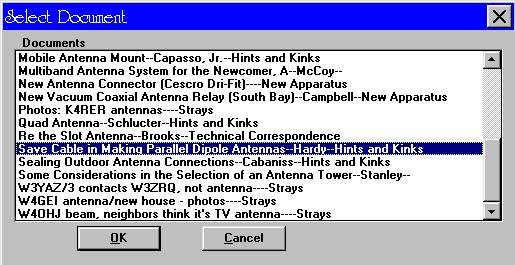 This was what I got when I specified "*antenna*" in Article and "1959" in Year. It lists the author, and what column it was under. You can define the fields it lists, the separator (I used a dash), and customize the listing format.
You can see this has some ideosyncrasies, but it gets the job done better than you might expect.
You can do a search without inserting any of the CDs. To actually view any of the items you find, it will prompt you for the necessary CD if it's not already in the drive.
Trying Out the Search Capability
I decided to hunt for a brief news piece I know I saw in print when I was reading the actual mags one night long ago. It was about a unique opportunity to see what an H-bomb does to atmospheric propagation during the upcoming "High Altitude Bomb Test" in the summer of 1958.

OK, so I had a couple of search terms to go on. The mention was sometime in early to mid 1958. It specifically mentioned that term (H.A.B.T.), and that energy conditions would briefly appear inside the atmosphere as if it were in the middle of the sun. Or something to that effect.

So I put in 1958 for the year, then put "H" in the article field and clicked on the selector button next to it to see what articles it knew about from 1958 beginning with the letter H. What do you know! It was in Strays, March 1958. Put in that CD (QST1958_59) and click OK to see it.

Sure enough, there it is, bottom of page 38. OK, it mentions Eniwetok test grounds, Aviation Week as the source of the story, bomb to go off right in the middle of the E-layer, the whole thing.

But that was just by using the pull-down listing. So I put in "*bomb*" as the search word, didn't specify anything else, and it found 8 different items from 1940 through 1959. Two of them turned out to be what I was looking for.

Callsign lookups only seem to find articles that were either written by that person or which had the call very prominently mentioned. So if you're looking for someone's mention in Silent Keys, you'll probably have to check that column out issue-by-issue.
Most of the articles that go for more than one page are kept together so you can read the whole thing. But it's annoying finding an occasional item that spans into some other part of the magazine (you're on page 20, and it says "continued on page 112") and for some reason, the software doesn't provide a means to jump to that page. You have to note what month and year this was in, then go to that whole issue link ("May issue") so that you can then specify the page you want to see. The monthly activity reports seem to be this way, all of them.

You can easily browse just covers by searching for terms like "May Cover", or use wildcards such as "Jan* Cover" or "Aug* Cover". Or you can specify the year and month and bring up a list of everything cataloged to that issue.
Other mentions of QST View: 1 2
Want to Help Your Library?
A club could raise the money needed to buy some or all of the QST View CDs, which could then be donated to a local public library. Many libraries have computers with media on CDROM available to patrons, and a collection like this would be a fantastic way to add to their services. And don't forget the P.R. exposure, while you're at it! Talk to your club, talk to your library people, see what they think.
---
Return to the AD7DB Main Page

Written 03/23/01
Revised 03/27/01


Copyright © 2001 David G. Bartholomew, AD7DB.

Disclaimer:
The contents of these pages do not necessarily reflect the opinions of my Internet provider, my page host (QSL.net), the ARRL, my employer, nor anyone else.

Looks best using