AD7DB Sinks to a New Low!
By David Bartholomew AD7DB
---
It all started in 2003 when Holly KC6MYM started a little contest for the Most Unusual Check-in to Calnet. We had some great entries that year, including folks calling from an 8900-foot mountain in 20 degree weather, or from on top of the Stratosphere Tower in Las Vegas, aboard a blimp, and on a train. Some of them came in over IRLP or by telephone links.
I was thinking even then of some good ideas for my own contest effort. I thought of trying to set a legal speed record by going to Arizona, where the speed limit on the Interstates is 75, and coming back into the system by way of a remote base link to a local repeater.
I also thought of trying a low altitude record by going to the Salton Sea, which is 235 feet below sea level.
But I knew that to make it a real good check-in attempt, it would need to be done during the weekly Wednesday night net.
That kind of cancelled most of the plans because it would involve a lot of travel on a weeknight. Something that I would only be able to do by taking a day off from work. Besides, someone might still go to Death Valley which is about 50 feet lower and beat me on the low altitude factor.
And then it hit me.
Why not do this during my planned spring vacation getaway. I could even combine this with a run up to the Utah state line to provide contacts from that state for an HF net I frequently check into, the 3905 Century Club. If I used some floating personal time in combination with my accumulated vacation time off work, I figured I might just be able to do it.
The Set Up
I decided that I could try to check into Calnet from Badwater. This is the lowest place in the western hemisphere, 282 feet below sea level. The only places on Earth that are any lower and still outside are the Dead Sea in Israel, the Turpan Basin in China, and various other locations which are all on the other side of the world. I doubted anyone from around here would go to any of those places just to beat my low altitude record.
Communications out of Death Valley would be problematic at VHF frequencies. The surrounding mountains rise up more than a mile high on either side, and Telescope Peak which is 11,049 feet high is right across the valley from Badwater.
I didn't expect to be able to use a cellphone there. No VHF repeaters could get into the place, so a remote base or IRLP link would be out. So HF or satellites would be the way to do it. Besides, there was the thrill of doing this entire thing by Ham Radio.
The Hook
N7JY and I decided to use 75 meters for the HF link. In previous experiments with me out at Blythe and other places we had found that band to be the best for the expected conditions.
The Tale
To heighten the suspense (and for publicity) I decided to drop some clues in the weeks ahead of my trip. The first clue was that I was going to travel about 200 miles away. The second clue was that I would try to set an altitude record. And the final clue was that US-395 figured into my route.
Some folks figured I might be heading for Mt. Whitney, or maybe up to Mammoth. A little misdirection couldn't hurt!
The Wire
This was all done wirelessly, by ham radio. In keeping with the theme from The Sting, I had to keep that section here.
The Shut Out
I left home about 6:00am on Wednesday, March 24th, 2004. I went north on the I-405, I-5 and Hwy 14. I refueled and got a bite to eat in Mojave and continued on.
I followed Hwy 14 up to Inyokern and joined into US-395. I followed it up to Olancha. Then I took Hwy 190 east from there. To the north I could see Mt. Whitney and the other peaks of the Sierras.
It's interesting to note that Mt. Whitney, which is 14,495 feet high, is so close to Death Valley. The highest point and the lowest point in the lower 48 states are practically next to each other.
I arrived in Death Valley around noon. I paid my visitor fee at the Furnace Creek Visitor Center, and then headed down to Badwater in order to get some pictures, rightly figuring that it would be hard to do at night later on.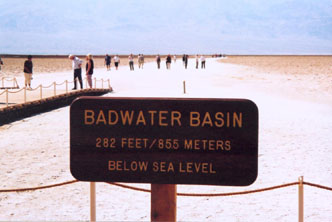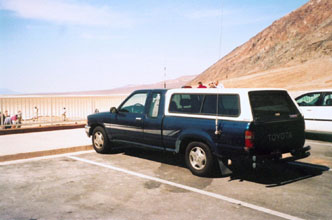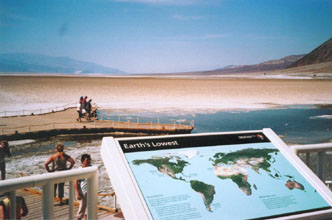 There were a lot of foreign tourists visiting Death Valley. Most of them were speaking German and French. Their guide was explaining things in slow, careful English, and letting some of their own group do the translating for them.
Death Valley is one of the most interesting places to visit. But you definitely want to do this anytime but the summer months. The highway grades are quite steep, so if you're towing anything you will heat up your brakes coming in, and your transmission going out. Gas prices were rather high which was not surprising. I was glad I'd tanked up in Mojave.
I hung around the Furnace Creek area most of the afternoon, saw the exhibits in the museums, enjoyed a lunch at the restaurant, poked around the borax wagons that the Twenty Mule Teams used to pull, and walked around the site of the Harmony Borax Works.
I verified for myself that radio communication to the outside is almost nonexistent. There seems to be one cellphone tower at Furnace Creek but nowhere else in Death Valley. I couldn't even get any AM stations on my car radio.
About 6:00pm, darkness was rapidly descending and so I left Furnace Creek and drove the 17 miles south to Badwater again. By the time I got there it was almost complete darkness. Two cars were at the pullout. They soon left, and from 6:30pm on, I saw only one vehicle go by on that road.
Badwater at dusk was about the spookiest place I have ever been! Nobody else was there. There was no sound at all. No high altitude jet planes, no crickets or insects, no wind. A crescent moon was right next to the planet Venus in the west. There were loads of stars in the sky.
The Sting
At 7:30pm local time I started tuning around 3.775 MHz, which was the frequency John and I had arranged to meet on. This is right on the boundary between the Extra and Advanced phone bands and we figured it might be less crowded. (We didn't do it to spite any General class hams, we did it out of necessity.)
At 7:38pm local time I found N7JY calling me on 3777.78 KHz and we established contact. We checked audio levels and were ready to go. We then chatted on the frequency until the Calnet weekly UHF net started at 8:00pm.
John began relaying the Calnet audio to me, which came through very clear. I have since listened to AC3X's recording of how I sounded coming the other way and I can tell you that I had far clearer reception at my end. Badwater turned out to be an ideal radio operation spot for 75m. It's very "radio quiet", miles from any power sources and transmission lines. There is a big rock cliff to the east that must go straight up for five hundred feet or more. (How do I know that? Because there is a sign partway up that says Sea Level!) At Badwater there is a saline marsh. The salt pan to the west lends itself quite nicely to propagation of HF communication.
Before long it was my turn to check-in to Calnet.
John did the relays to KB6OOC like clockwork and I gave my report and revealed my location. I gave a weather report and some comments about the conditions. And I was confident that I had to have made the most unusual check-in, as well as attained a new low!
And soon my part was over. I had John wait on frequency while I made sure I could start my truck and get rolling out of there. Like I said, practically nobody had come by for something like 90 minutes and I sure hated to have to wait for a park ranger to find me if I was in trouble.
But I had no problem, and was soon on my way. As soon as I was away from Badwater I lost the good reception of N7JY, so that was indeed a sweet spot for HF back there.
I made it out of Death Valley using Arcturus in the east as a guiding star, and on to Pahrump where my hotel room was waiting.
Epilogue
Well, it's done. Planned and executed. Would I do this a second time? Maybe. But there might be other ways to do it. By satellite, but that is severely limited by the satellite pass times. Perhaps it could be done by crossband FM relay into Onyx Peak, using a vehicle parked in a strategic spot like Dante's View, which is practically one mile straight up from Badwater. There may be other possibilities for a return visit.
---
Revised September 22, 2004
---
Back to the AD7DB Page


Text and all photos Copyright © 2004 David G. Bartholomew, AD7DB.

Disclaimer:
The contents of these pages do not necessarily reflect the opinions of my Internet provider, my page host (QSL.net), my employer (the scum), Calnet, the 3905 Century Club, the National Park Service, nor anyone else.

Looks best using