[Disclaimer: This info has been originally sent to, compiled, translated and relayed globally by W.W.Purwinto, AB2QV, from DeWitt, New York. Anyone may freely relay, edit and post this info anywhere appropriate with proper reference or credit]
---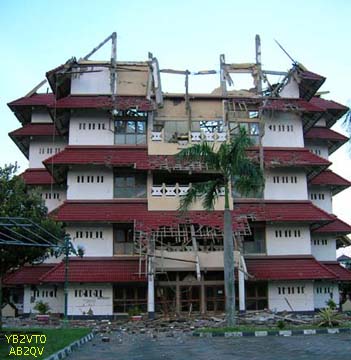 Emergency Communication in Greater Yogyakarta
Central of Java Island
---
Magnitude 6.3 - Central Java, Indonesia
7.962°S, 110.458°E



2006 May 26 22:53:58 UTC or local time Saturday, May 27, 2006 at 05:53:58 AM
You never see these pictures on tv:

Photos of EmComm activities and other casualties in Greater Yogyakarta.
Fri, 2 Jun 2006 01:01:53 -0700 (PDT) Halim Dani, YC2TJV, resided in Yogyakarta sent these URLs:
unosat.web.cern.ch/unosat/asp/prod_free.asp?id=21
unosat.web.cern.ch/unosat/freeproducts/indonesia/UNOSAT_Java_pop_EQ27may06_highres.jpeg
unosat.web.cern.ch/unosat/freeproducts/indonesia/DLR_20060528_indonesia_earthquake_jetis_ikonos_medium.jpeg
www.respond-int.org/Respond/
195.217.226.9:8080/respond/maps/highres/328.jpg
Another news version:
ARRL News Online 06/02/2006
ARRL News Online 05/29/2006
---
BREAKING NEWS:
Sun, 11 Jun 2006 10:17:00 -0700 (PDT), Halim Dani, YC2TJV, reported from Yogyakarta after attended the informal meeting with the head of ORARI Yogyakarta, Wahyu Widiyatmo, YC2DWJ, Handoyo, YB2KW, Arif Sundiyoko, YC2UMZ, Eko, YD1OHE, and Asep, YD1OYA.
According to them the provincial bureau of emergency management has declared that the emergency phase is to be ended. And the social rehabilitation phase is underway. Therefore, all zulu stations that have been supporting the emergency relief efforts in the disaster areas have to be deactivated or terminated. This is including YE1ZAB, a zulu station of West Java province, that still has one month period of supporting West Java provincial health department's disaster relief unit in the area .
All emergency radio volunteers may now return to their original posts and homes. Although all emergency zulu stations are terminated, the local club stations and emergency radio volunteers still standby monitoring. The provincial emergency management bureau will coordinate all governmental related and relevant units, police force and armed forces to rehabilitate the disaster areas of the special authority of Greater Yogyakarta and its surrounding that is part of Central Java province.

<> END OF BREAKING NEWS <>
Date: Wed, 7 Jun 2006 08:15:07 -0700 (PDT), Halim Dani, YC2TJV, reported that the emergency radio station in Gabusan art plaza, Bantul, has been shut down. The operators of this station have joined a portable zulu station, YE1ZAB, from West Java Province, that is located in the Yogya Expo Center. YE1ZAB has been supporting the command post of the provincial health department of West Java operating in Yogya for another month. In addition, there is a medical command post of East Aceh Regency in Imogiri, east of Yogya, that has been supported by portable operator YC6DAI and local operator YC2DHE. Moreover, ORARI District 2 Greater Yogyakarta will operate a zulu station, YB2ZY, for general clearing house that is located in Yogyakarta gubernatorial building.
Date: Tue, 6 Jun 2006 23:52:05 -0700 (PDT), Deta, YB2VTO, and Halim Dani, YC2TJV, from Yogya confirmed that a female radio amateur by the name of Setya Winarti, YD2VWW, who lived in Prambanan, north east of Yogyakarta, was pronounced dead as a direct victim of a magnitude 6.2 earthquake occured on Universal Time (UTC) Fri May 26 22:54:01 2006 or Time Near Epicenter Sat May 27 05:54:01 2006. As reported earlier that the daughter (5th grader) of Ngadino, YD2WGN, resided in Bantul, south of Yogya, was also dead as a direct victim of the quake.
Last Tuesday 6 June 2006, Mrs. Yani Sapto Hudoyo, YB2BMM, who is the head of ORARI District 2 Greater Yogyakarta, has opened a special bank account for releaving amateur radio community in the area from disaster. Anyone can pledge through this account. Deta sent more pictures she took by herself [Thanks much to Deta].
Date: Sun, 4 Jun 2006 02:24:48 -0700 (PDT), Halim Dani, YC2TJV, reported that M. Rachmat, YB1CY, from Bandung (capital of W Java province) and his medical team from the health department of W Java province have just arrived in Yogyakarta. Rachmat will setup an HF and VHF base station in Jogja Expo Center (JEC) building under YB1CY/YB2 call - if he will not be granted a zulu call. His medical team will stay for one month periode to help the victims in many places.
Date: Sat, 3 Jun 2006 07:08:46 -0700 (EST), Halim Dani, YC2TJV, sent several photos of YC2ZEB. He also said that Anton Kusumajaya, YC2BEA, from Purworejo (+/- 100km west of Yogyakarta), has been almost nonstop monitoring and maintaining his repeater used for local ORARI in Purworejo and emcomm in general. His repeater on 146.840 MHz is located on the hill near the border between Greater Yogyakarta and Central Java province. This repeater has wider coverage than the rest of repeaters in Greater Yogyakarta. Hence, many emcomm volunteers in disaster areas especially those in Bantul regency have often used this repeater.
Date: Sat, 3 Jun 2006 02:49:33 -0700 (EST), Halim Dani, YC2TJV, reported from the free wireless Internet service station provided by IndoSat, Inc. in Bantul that the head of ORARI District 2 - Greater Yogyakarta, Mrs. Yani Saptohoedoyo, YB2BMM, was visiting YC2ZEB VHF zulu station in Bantul regency office. Amongs the hosts on duty of the zulu station who welcome YB2BMM was Arif Sundiyoko, YC2UMZ, who is the head of local ORARI of Bantul, and Halim Dani, YC2TJV.
Date: Sat, 3 Jun 2006 15:12:46 +0700 (EST), Budi Rianto Halim, YB0HD, the head of ORARI District 0 - Metro Jakarta, just got back home from Yogyakarta. He visited Pundong county, Bantul, to help some emcomm members. Last Friday he and his group have delivered medicine and wheelchairs donated by a company to several hospitals in Yogyakarta and Klaten. His group also gave away foods, used clothes, blankets, saroongs and other supplies directly to the residents.
Date: Fri, 2 Jun 2006 20:15:50 - 0700 (EST), Halim Dani, YC2TJV, reported from his QTH as follows:
Ngadino, YD2WGN, a father in Bantul, has reported that his young daughter who is a fifth grader has died right away after she got hit by a wooden wardrobe in their home when the quake shook. One hour later or around 7:00AM Ngadino reported sadly the incident over the local VHF repeater of ORARI in Bantul. The time when many people in the area were afraid and panic of possible tsunami.
Friday 06/02/06 Wahyu Widiyatmo, YC2DWJ, who is the head of local ORARI Yogyakarta, has been assisted by Handoyo, YB2KW, Sigit Nugroho, YD2UQY, YD2YOU and others to distribute many tents donated by Carrefour superstore. Carrefour is a two months old store located in the new Ambarukmo Plaza that is destroyed by the quake and killed a custodian.
Dani, YC2TJV, has witnessed that there were many disaster relief packages came from all over the country and overseas. He saw many ambulances from Singapore, Malaysia and Arab country. The UNICEF vehicles have also moved into the disaster areas. It has been a heavy traffic along the main road between Yogyakarta and Bantul.
Dani, YC2TJV, together with his friend from Kebumen downtown business community (200 miles west of Yogyakarta) who came in convoy of 12 vehicles distributed logistic to Klaten regency (32.3 km from epicenter or 25 miles east of Yogyakarta) and Bantul regency (13.8 km from epicenter or 10 miles south of Yogyakarta). According to them that south side of Klaten has experienced huge casualties as Bantul got. However in the earlier days, the disaster areas in Klaten received less attention and media exposure due to more sporadic damage happened in Bantul.
Budi Santoso, YB1BS, from Bandung (a capital city of W Java province) has deployed an emergency response unit to setup the emergency water processing & distribution system and medical clinic in the Gabusan art flea market of Bantul. A local ham named Budi Pramono, YB2UJY, has helped to install an HF & VHF station in the flea market to support the medical unit. Pramono works together with the emcomm group from Jakarta.
Sujanto Tjahjono, YC3DKK, and his emcomm group from Surabaya (capital city of East Java province) also came to assist the medical units in the disaster areas. YC6DHE (no name available) from Aceh province of Sumatra island, where tsunami occured two years ago, came into the areas with six ambulances and its paramedics. YB7ZXX, a zulu mobile station from East Kalimantan (Borneo island) province, and its emcomm group have entered Yogyakarta to support the emcommunicators already on the field.
Date: Tue, 30 May 2006 20:03:15 -0700 (PDT). Deta, YB2VTO, from Yogya reported that she just got back from Bantul town for checking out her relatives and friends. She said that the local emcomm has mostly used 145.380 Mhz repeater of ORARI branch in Bantul town and 146.840 Mhz repeater of ORARI branch in Purworejo town, since both repeaters can cover the whole disaster areas. A zulu station for VHF, YC2ZEB is an ENC on 145.380 Mhz in Bantul town. While YC2ZEJ is an ENC on 145.500 Mhz in Yogya city and YC2ZES is an ENC on 145.320 Mhz in Sleman town. Traffic on the last two repeaters are slow though there are hams monitor all the time.
On HF 7,065 Mhz there are two zulu stations operating include YC2ZEB with Budi Pramono, YB2UJY, as the manager, and YC0ZRA (mobile zulu station from Jakarta Metro) operated by Achmad Sanusi, YCOLJH. YC2ZEB for HF is located in Gabusan Art Plaza, Bantul town, and YC0ZRA that always mobile. They just installed an 80M dipole antenna for YC2ZEB in Bantul but it is not up yet due to a short generator.
Deta heard that there was a ham who became the quake victim and then passed away. Yet no one confirmed the casualty. She still gathers more info and pics. Thanks to her for such a great effort to support EmComm2Yogya.
All emergency traffics for Greater Yogyakarta, Java island, can be monitored on these frequencies:
7.065 MHz for national emcomm related to Mount Merapi and Greater Yogyakarta disaster areas.
VHF repeaters used locally for emergency traffic handling:
145.550 MHz in Yogyakarta for Greater Yogyakarta EmComm
145.320 MHz in Sleman (north of Yogyakarta) for Mount Merapi EmComm
146.840 MHz in Purworejo (west of Yogyakarta)
145.200 MHz and 146.120 MHz in Klaten (east of Yogyakarta)
145.38 MHz in Bantul (south of Yogyakarta)

Date: Mon, 29 May 2006 09:29:09 +0700 (12 hours ahead of EST). According to Rivai, YB2MTA, that Suwanto, YB2BY, from Purbolinggo, and Sriyono, YD2KSB, from Purwokerto, will drive a jeep full of bottled of water to Yogyakarta on Tuesday May 30, 2006.
Date: Sun, 28 May 2006 22:00:33 +0700 (12 hours ahead of EST). Beside several local emergency zulu stations and operators using frequencies mentioned above, Budi R. Halim, YB0HD, who is the head of ORARI District 0 (zero), confirmed that there is an emergency zulu station portable from Jakarta, YC0ZRA, that is operated by Achmad Sanusi, YCOLJH, and Budi Sabara, YCOCSR, both from Jakarta. YC0ZRA also supports the Indonesian Offroad Federation (IOF) with their heavy duty all wheel drive vehicles in disaster area.
Date: Sun, 28 May 2006 10:48:21 +0700 Yogyakarta time (12 hours ahead of EST). According to Rivai, YB2MTA, in central Java, today Sunday morning Praharto, YB2BFZ, who is the head of ORARI branch in Banyumas city (200km west of Yogyakarta) has led his emergency radio communicator (ERC) team to Yogyakarta to carry backup generators. On Sunday morning when Rivai listened to a VHF repeater in Purworejo city (100km west of Yogyakarta) he heard that there were several emergency radio communicator teams from Metropolitan Jakarta (national capital city), Bekasi (near Jakarta) and Bandung (capital of West Java province) heading to Yogyakarta for extra support. In addition, the Global Rescue Network team from Jakarta that has emergency support experiences in Nias and Aceh before and led by a doctor who is the husband of Yunita, YD0MGR, also went to Yogyakarta.
Deta, YB2VTO, who is a resident of the University of Gajahmada housing complex, Yogyakarta, is still busy to gather some info on amateur radio emergency activities and photographs from the disaster area.
Date: Sun, 28 May 2006 13:15:29 +0700 West Indonesia Time (12 hours ahead of EST). Zulkarman Syafrin, YB6PLG, in Medan, North Sumatra, notified me that medical doctor Soejat Harto, YB6HB, who is the head of ORARI District 6/North Sumatra and is now in Surabaya (capital city of East Java province), will go to Yogyakarta on Monday to join the emergency hamradio medical team. Doctor Harto, YB6HB, was a prominent leader of the ORARI-ARES of District 6 - North Sumatra that its team was ever on non-stop duty in many tsunami disaster areas in Aceh and North Sumatra including Nias island.
Thanks to all amateur radio volunteers from Indonesia who have provided this info to keep us up to date. This informational website is dedicated to those radio emergency operators who have died during emergency services anywhere. Their volunteerism, patriotism and dedication in helping people has been recognized and honored. God bless them.
[Disclaimer: This info has been originally sent to, compiled, translated and relayed globally by W.W.Purwinto, AB2QV, from DeWitt, New York. Anyone may freely relay, edit and post this info anywhere appropriate with proper reference or credit.]
---
Source: http://www.qsl.net/ab2qv/yogya.htm/
Powered by www.qsl.net