---
Visiting W0UN
An evening of operating at W0UN's amazing station with AE0Q
251 QSO's and 17 new DXCC countries---all while John was cooking hamburgers on the grill!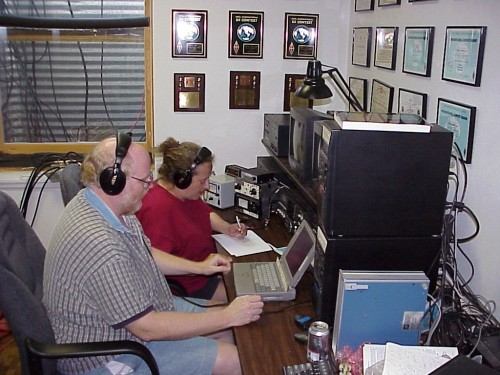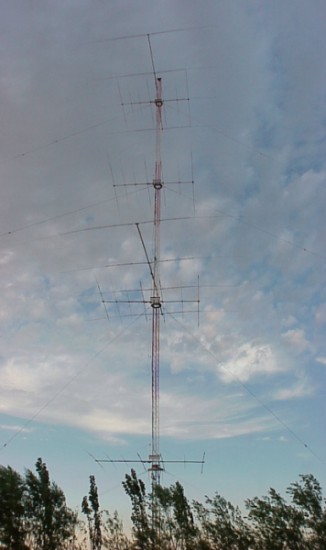 W0UN's main 175 ft tower: four phased TH7DXX yagis, two KLM 4 el 40m yagis.
This sure beats my indoor antennas at home!

Gee, not bad for pre-dinner entertainment!

---

My last state for W.A.S.
One Sunday in March 1999, AE0Q drove 175 miles from Denver to Nebraska to
work me from the last state I needed for the ARRL Worked All States award!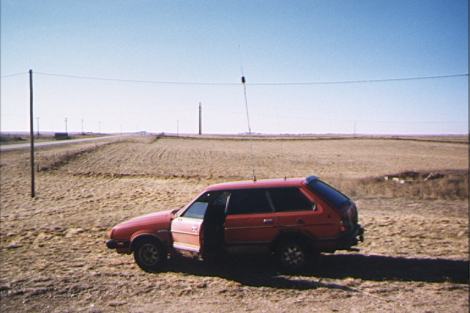 The Great Plains 5 mi. south of Kimball, NE, looking due south.Hustler with 17m KW resonator in middle of car roof (very low ground losses).

View towards North Carolina (east-south-east) across miles of rolling prairie.
Location is 55 miles south of the original Oregon Trail where wagon ruts
can still be seen in the rocks. Hustler mobile antenna with 10m KW resonator.


AE0Q's portable station : TS-450s/AT , Super CMOS-3 keyer ,
Jones Key paddle (car battery has been replaced with 100 Ah
marine battery for extended operating with engine off).
Hustler KW resonators for all bands, 40m thru 10m.
Back to AB0MV Home Page
---