DC40xx Ugly Style
40 meter direct conversion receiver ugly build. Based on the progression of KD1JV's infamous DCxx Tranceiver line.


It's unique in that it uses a passive mixer and is nearlly IMMUNE to BCI!!! It uses a set of "flying" switches, in the form of a 74HC4053 IC. The switches "fly" at the desired mixer frequency. This is known as a commutative mixer. They tell me it's different from a "Tayloe" mixer.
I live near a big AM power house, and the majority of my NE602/SA612 based front-ends suffer HORRIBLY from BCI, but not with this design. It performs amazingly well I must say!
---
---
I'm still trying to get the schematic done. In the mean time here is a partial one. It does not include the VFO of the Low-Pass Filter....
---
---
The receiver "front-end" This is were the signal enters the receiver. The little yellow capacitor will be adjusted for maximum signal
---
"Flying" Mixer circuit using 74HC4053 switching IC. Immune to BCI. Works VERY well.
A close up of the "mixer" This is known as the "dead bug" method. The IC is glued upside down onto the ground plane and looks like a dead bug.
I am VERY happy with the performance of this mixing system!
Mixer differential output to 1st amp w/ gain of 10
Another angle of the "mixer" section. Most of the connections are made in mid-air, any connections to ground are soldered directly to to main board, which is a huge ground plane.
---
The AA9GG varactor tuned VFO for 7mhz
This is the variable frequency oscillator(the main tuning). I designed this first and made a circuit board for it. The pcb is tack soldered onto the main board.
---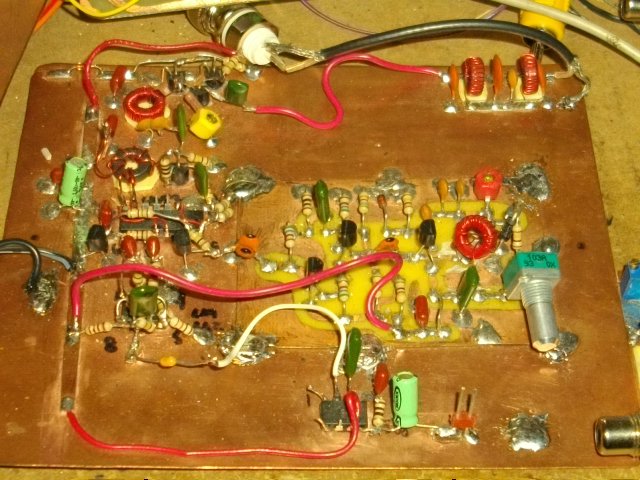 40m flying mixer DC receiver w/ AA9GG VFO. The audio amp, in the foreground, is a basic LM386 configuration. The header pins are my audio out connections
I LOVE this radio!!! Performs VERY well!
---
---
That's all I have for now. I'll have to post the schematic. Actually I need to computerize it as it's hand-drawn on 2 different sheets of paper.
---
---
Back to QRP Build Page
Last updated : Thursday, August 04, 2011 9:45:14 PM
Website created and maintained by AA9GG