GREAT SEARCH

---
MY OTHER SITES

This is a very small web directory for DXers. You may search and suggest favorite homepages there.
This is my verifications gallery contains 315 items which were sent from broadcasting stations in 1970s and 80s.
This web site is dedicated the USA county hunters in Japan. Although all the contents are writen in Japanese, they can be translated to English automatically.
---
MY FAVORITES

This is the multiple and selectable DX-cluster which is managed by Motoo, JA4PXC. You can customize its windows as you like.

Top page > Download Page

---
DOWNLOAD PAGE - Excel's spreadsheets

---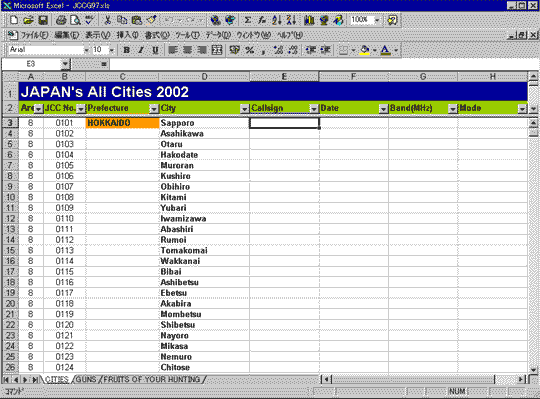 You can download two kinds of spreadsheets on this page. One is a spreadsheet for managing JCC/JCG awards, and another is for USA County Hunters. Since both of them are made with Microsoft's EXCEL97, in order to use them, they need EXCEL97 or a newer vision.

---
for JCC/JCG hunters

---
Japan is an island extending in a curve along the eastern coast of the Asian continent. It consists of four big islands (Hokkaido, Honshu, Shikoku, Kyushu) and almost 7,000 islands altogether. Its land area is about the same as that of Germany.
There are 47 prefectures in this small country. Each prefecture consists "shi"(cities) and "gun"(counties). JARL (Japan Amateur Radio League) issues awards of "JCC-Japan Century Cities" and "JCG-Japan Century Guns" for amateur radio stations and short wave listeners who succeed to get QSL(SWL) cards from 100 and more cities or guns in Japan.

(58KB: includes "JCCG97.xls" and "JCCG97.ico")
*JCC and JCG numbers noted with red on the work sheet are cities and guns have been deleted already, but available to JCC and JCG awards. The details of JARL's awards are at its official page.
BBS for JCC/JCG Hunter in the world is a good partner for you. Let's visit there and get real-time information.

---
for U.S.A. county hunters

---
There are 3,077 counties in the United States currently. As you know, many amateur radio operators enjoy the USA CQ Magazine manage's "THE USA COUNTIES AWARDS".

(129KB: includes "USA-CA97.xls" and "USA-CA.ico")