Hi. My name is Shimon, and I am from Karkur, Israel.
I am 43 years old and started this Pond stuff a few years ago.
Welcome to my old pond site !
רוכרכמ ןועמש לש דנופה רתאל םיאבה םיכורב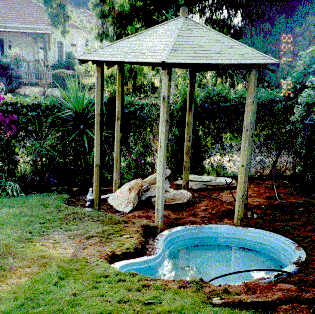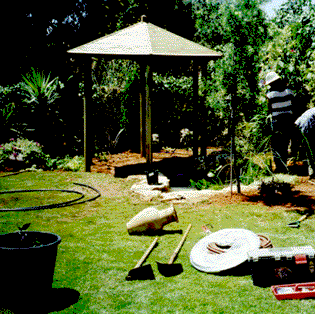 My first pond was a little one.
When it was just a hole - it seemed large enough,
but after that, when the plants and rocks were there,
it looked small !!!
That's why i wanted a larger pond but still easy to handle.
I used my childrens' swimming pool as the pond.
At first it was blue but after a few weeks - a coating of algae
started to appear on the sides.
As far as i know - this is a good kind of algae,
so you don't have to scrub it off.

If i don't use the pump every 2 or 3 days,
I can see that some algae is starting to float on the water.
It looks like string, and there's no reason
why you should leave it there.
Take it out by hands or with a little leaf net.

As long as you don't stuff the pond with too many fish,
it can maintain the balance.
Make sure not to put a koi inside at the first few weeks of the pond's life.
Also don't add goldfish until the water of your pond
set with plants in it - for a minimum of one week.
Don't put frogs inside because if you want to take them out -
it will be almost impossible !
As far as my pond is concerned, i don't use a bio-filter,
nor i use other kinds of filtration (e.g. mechanical).
You also don't need a u.v. light because it kills the "good" algae.
It's simply a good circulation of the water,
enough plants and not too many fish (or not big ones).
Speaking of plants, there are mainly 2 kinds.
The first kind is what i call "the regulars".
These are floating-leafed plants.
For example, water lilies (Nymphea).

They have their roots in the soil at the bottom of the pond or inside a basket.
I have also plants like Amazonas Sward, which is very nice.
As a matter of fact, the roots of those plants will act as a biofilter
and also will remove some nitrate.
The second kind are oxygenating grasses.
They use nitrogen (from fish waste and decaying matter)
and release essential oxygen into the water.
Remember - you have to cover approximately 70% of the water surface
with plants, to prevent algae.
Don't forget to put a few mosquito fish inside and also some
water snails.
The little mosquito fish will eat flies and mosquito larvae.
The water snails will eat the decaying matter and maybe
some algae off the container.

Well - now you just have to listen to the waterfall
and watch the fish and the plants. Enjoy it !!!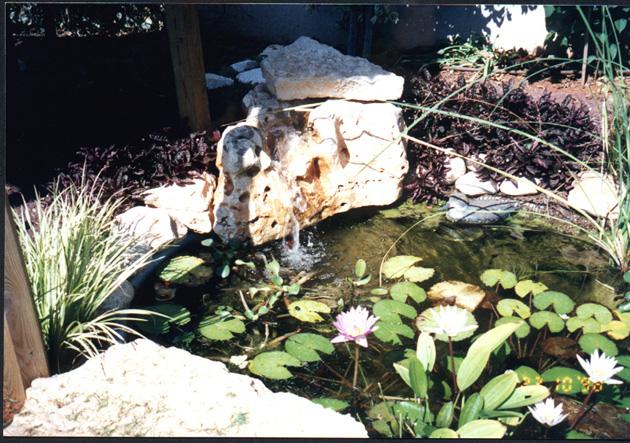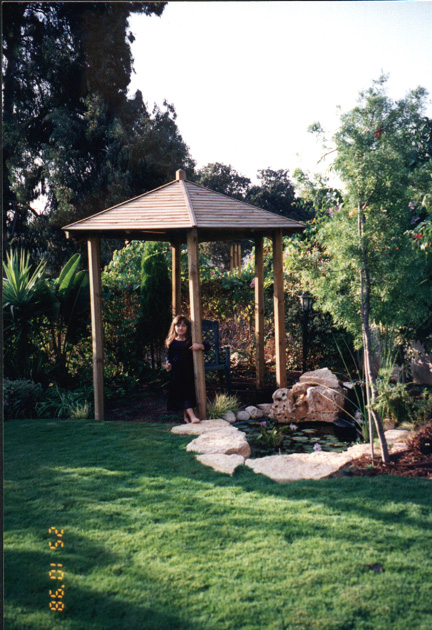 Listen to the great sound of the water now.


(C) 1997 asio@walla.co.il